Call Center AI Market is Expanding with 23% CAGR, Finds P&S Intelligence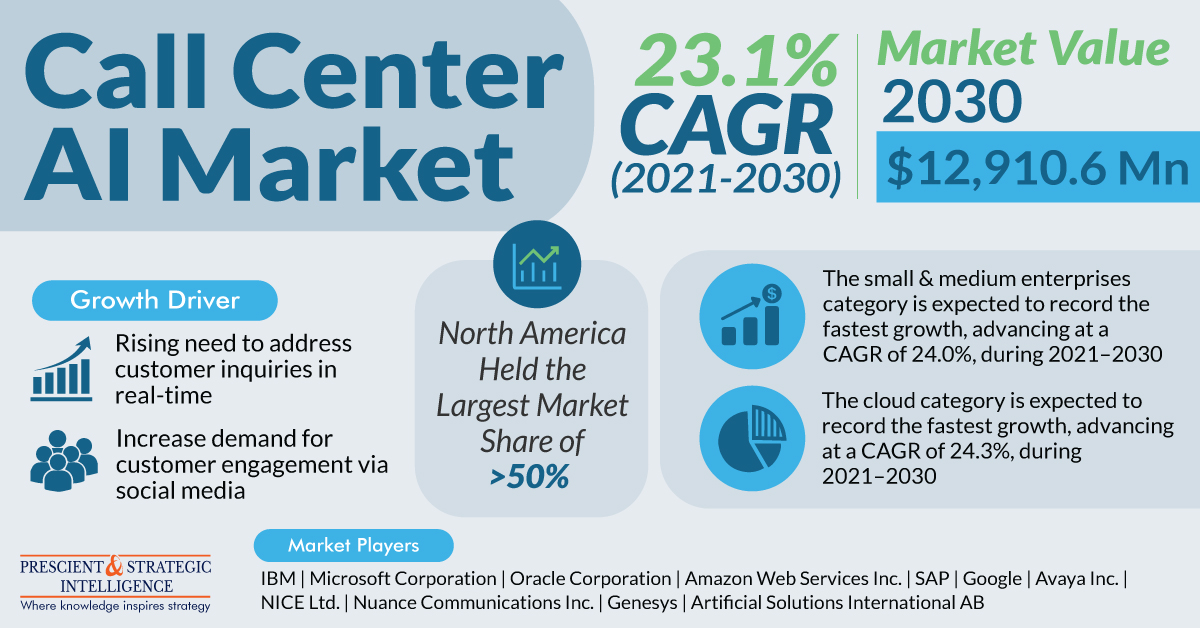 North America captures the largest call center AI market share, and it is predicted to generate revenue worth $6,582.4 million by 2030, advancing at a rate of 23.3% during the forecast period.
The total value of the call center AI market was USD 1,982.9 million in 2021, and it will rise at a mammoth growth rate of 23.1% in the near future, to reach USD 12,910.6 million by 2030. The major reasons behind the growth of this industry are the growing need for better data analytical abilities to deal with customer inquiries in real-time and rising customer engagement from social media.
Furthermore, to quicken the 4th industrial revolution, many organizations are using advanced technologies like Al, ML, and mobile computing, accelerating the requirement for call center AI software in years to come.
The cloud category is projected to grow at the fastest rate in the coming years. This is mainly because it covers public, hybrid, and private cloud technologies, and also comes with remote access.
Download sample pages of this report: https://www.psmarketresearch.com/market-analysis/call-center-ai-market/report-sample
Several businesses adopt this arrangement due to this software facilitates being hosted on the vendor's server and can be used via a web browser. Such features eliminate the requirement for regular upgradation of systems and facilitate users to access data from any location.
The social media platforms like Twitter, WhatsApp and Facebook have expanded their reach extensively in the last few years. Customers use these social media platforms to find information and involve in communities to deal with service issues. The young generation is very keen to learn about companies or brands. Therefore, organizations plan to utilize social platforms, to better the customer engagement.
The small & medium enterprises category is projected to grow at the fastest rate in the years to come. This can be credited to the increasing number of businesses that are progressively using call center AI solutions. Small companies have started using cloud technology mainly because of low upgradation and maintenance expenses. These solutions enable users to access data stored in any location, and smooth integration with long-standing systems with better efficiency.
The BFSI category dominates the industry. This can be credited to the growing urge of customers to do banking transactions with ease and speed. The banking sector goes through many challenges in effectively catering to complex queries, which Is why banking institutions are adopting AI-powered call centers to manage calls and customers efficiently.
Browse detailed report on Call Center AI Market Size, Share, Development and Demand Forecast Report 2030
North America dominates the call center AI market and is projected to be the industrial leader in the coming years. The reasons behind the industrial growth are the existence of key players and the increase in expenditure on call centers for providing effective services across industries.
The growing need for the call center AI solutions from the banking sector and several industries will contribute to the growth of this industry.
Global Call Center AI Market Size Breakdown by Segment
By Component
Solutions
Services

By Professional Services

Training and Consulting
System integration and implementations
Support and Maintenance

Managed Services
By Application
Workforce Optimization
Predictive Call Routing
Journey Orchestration
Agent Performance Management
Sentiment Analysis
Appointment Scheduling
Other Applications
By Organization Size
Small & Medium Enterprises
Large Enterprises
By Deployment Mode
By End Use
BFSI
Retail & eCommerce
Media & entertainment
Healthcare
IT & Telecom
Travel & Hospitality
Others
Regional Analysis
North America Call Center AI Market

By Component
By Application
By Organization Size
By Deployment Mode
By End Use
By country – U.S. and Canada

Europe Call Center AI Market

By Component
By Application
By Organization Size
By Deployment Mode
By End Use
By country – France, Germany, Italy, Spain, U.K. and Rest of Europe

Asia-Pacific Call Center AI Market

By Component
By Application
By Organization Size
By Deployment Mode
By End Use
By country – China, India, Japan, South Korea, Australia and Rest of APAC

Latin America Call Center AI Market

By Component
By Application
By Organization Size
By Deployment Mode
By End Use
By country – Brazil, Mexico, Argentina and Rest of LATAM

Middle East and Africa Call Center AI Market

By Component
By Application
By Organization Size
By Deployment Mode
By End Use
By country – Saudi Arabia, U.A.E., South Africa and Rest of MEA
Browse more reports published by P&S
Global Telecom Consulting Market Growth, Development and Demand Forecast to 2030
Global 5G Infrastructure Market Share, Growth, Development and Demand Forecast to 2030
Media Contact
Company Name: P&S Intelligence
Contact Person: Abhishek
Email: Send Email
Phone: +918887787886
Address:Noida Sector 2
City: Noida
State: UP
Country: India
Website: https://www.psmarketresearch.com/market-analysis/call-center-ai-market