Dietary Fibers Market Size, Share, Growth, Trends, and Forecast – 2022
The dietary fibers market is projected to grow at a CAGR of 11.6% from 2017 to 2022, to reach a projected value of USD 6.50 Billion by 2022.
The report "Dietary Fibers Market by Type (Soluble, Insoluble), Application (Functional Food & Beverages, Pharmaceuticals, Animal Feed), Source (Cereals & Grains, Fruits & Vegetables, Legumes), and Region – Global Forecast to 2022″, The Dietary Fibers Market Is Projected To Account for a Value of USD 6.5 Billion By 2022 Consumers are increasingly becoming fitness-conscious, which has influenced their diets as well. To maintain their health, they are supplementing their fitness regimes with a range of functional food products. Due to the increasing demand for functional food products, manufacturers are increasingly utilizing various dietary fibers in their products. According to MarketsandMarkets, the dietary fibers market is projected to account for a value of USD 6.5 billion by 2022, recording a CAGR of 11.6%.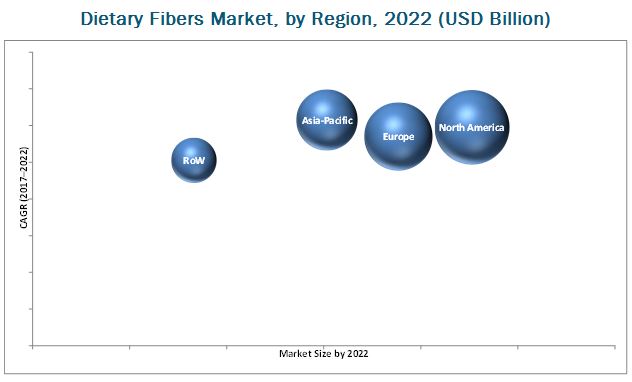 Download PDF Brochure: https://www.marketsandmarkets.com/pdfdownloadNew.asp?id=858
Changing lifestyle and higher disposable income
Urbanization has led to changes in the lifestyle of consumers particularly in developing countries such as Brazil, Argentina, South Africa, China, and India. With increasing workload and busy lifestyles, coupled with the rise in disposable incomes, the consumption of processed convenience foods has increased leading to an increased demand for dietary fiber-based products. Several leading companies have started enhancing their processed food products with nutrients to meet the growing consumer demands for a balanced diet. Hence, dietary fibers have become a largely added functional ingredient choice by most processed food manufacturers, contributing to the growth of the dietary fiber market. This has resulted in the growing demand for products that offer balanced nutrition. Thus, the consumer demand for functional foods, nutraceuticals, and supplement has increased. Dietary fibers are used as an essential ingredient in functional foods. Hence, its market size increases along with the growth of the functional food sector.
Water stability and reactivity
Dietary fibers cannot be digested by humans due to lack of necessary enzymes (proteins that help produce chemical reactions) in the digestive tract. More specifically, they are resistant to hydrolysis. Since dietary fibers cannot be digested, they pass through the body virtually unchanged and cannot be used as an energy source. These properties of fibers are useful in the physiological functions. However, the same characteristics become a hindrance while incorporating fiber as an ingredient in food products. Blending of fibers into the product is of high importance for the chemical stability of the product across temperature range and time. This is one critical reason that manufacturers may slowly divert from dietary fibers. However, such a change would have an economic impact on fiber production due to the high price of dietary fibers.
Increase in demand for weight management products
Consumers have become conscious about their calorie intake and hence, the weight management segment is a fast growing market. Dietary fibers have a major application in weight management products. They can be marketed as satiety ingredients, which can be used for consumers on a diet. A fiber-rich diet can imbibe greater levels of satisfaction in consumers, thus serving the purpose of weight management. Dietary fibers aid in weight loss by activating the amylin hormone, which helps the body to feel less hungry. They create a sense of fullness for a longer period of time and reduce cravings for sweets and carbohydrates.
Speak to Analyst: https://www.marketsandmarkets.com/speaktoanalystNew.asp?id=858
North America To Dominate the Dietary Fibers Market During the Forecast Period
A shift in the preferences of consumers toward fat-free and nutrition-rich food products has encouraged retail outlets to accommodate shelves for functional food products. Increasing obesity among consumers has encouraged consumers to follow a strict fitness regime, due to which the preference for functional food products is projected to grow in the North American region. Increase in the number of fitness-conscious consumers has led manufacturers to invest in a range of dietary fibers to enhance the nutritional quotient and quality of products. On account of these factors, North America is projected to dominate the market during the forecast period.
Leading players identified in the dietary fibers market include E. I. du Pont de Nemours and Company (US), Cargill (US), Nexira SAS (France), Roquette Frères S.A. (France), and Ingredion Incorporated (US). Key players in this market are adopting strategies such as agreements, acquisitions, and expansions.
All in all, the dietary fibers market is projected to record significant growth during the forecast period. Retailers focus on improving their sales and profit by accommodating their shelf space with functional food products. Key players also focus on developing products that align with the health and fitness requirements of consumers to cater to the increasing demand of retailers and consumers. These factors are projected to reflect positively on the market growth.
Media Contact
Company Name: MarketsandMarkets
Contact Person: Mr. Shelly Singh
Email: Send Email
Phone: 1-888-600-6441
Address:630 Dundee Road Suite 430
City: Northbrook
State: IL
Country: United States
Website: https://www.marketsandmarkets.com/Market-Reports/novel-dietary-fibers-market-858.html