Prebiotic Ingredients Market Size, Share, Growth, Trends, and Forecast – 2023
The prebiotic ingredients market was valued at USD 3.65 Billion in 2016; this is projected to grow at a CAGR of 10.4%, to reach USD 7.37 Billion by 2023.
The report "Prebiotic Ingredients Market by Type (Oligosaccharides, Inulin, and Polydextrose), Application (Food & Beverages, Dietary Supplements, and Animal Feed), Source (Roots, Grains, and Vegetables), and Region – Global Forecast to 2023″, The Prebiotic Ingredients Market Is Projected To Account for USD 7.4 Billion By 2023 Consumers are increasingly becoming health conscious and prefer spending on food products that are health-enriching and enhance their digestion. Due to the increasing demand for digestion-friendly food products, manufacturers are increasingly utilizing prebiotic ingredients. According to MarketsandMarkets, the prebiotic ingredients market is projected to account for a value of USD 7.4 billion, recording a CAGR of 10.4%.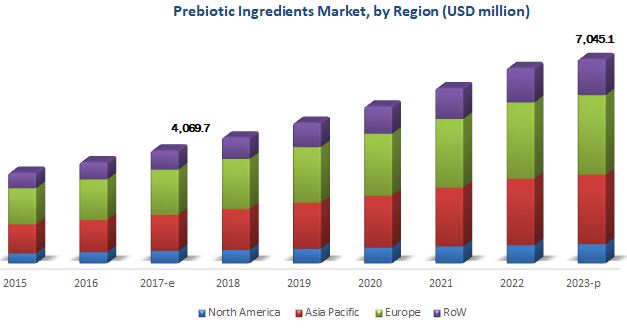 Download PDF Brochure: https://www.marketsandmarkets.com/pdfdownloadNew.asp?id=219677001
Prebiotic ingredients act as multifunctional ingredient
Prebiotic ingredients act as food for probiotic bacteria present in the human and animal gut that eventually modify the colonic microflora, and stimulate the growth of non-pathogenic bacteria, particularly Lactobacilli and Bifidobacterium. According to the FAO, usage of prebiotic ingredients in food products has helped balance the intestinal flora. Prebiotic ingredients include fructooligosaccharides, galactooligosaccharides, inulin, mannanoligosaccharides, and xylooligosaccharides that have multifunctional properties and are associated with various health benefits such as improved gut health, cardiovascular health, bone health, and immunity. Thus, the multifunctional nature of prebiotic ingredients coupled with proven health benefits drive the prebiotic ingredients market growth as multifunctionality will lead to the use of these ingredients in multiple applications and will broaden the market coverage.
High manufacturing and R&D cost
The extraction process of prebiotics from vegetables and plants includes methods such as Fourier transform infrared (FTIR), thin layer chromatography (TLC), high-performance liquid chromatography (HPLC), and spectro-photometry methods, which all involve high R&D investments. Due to high R&D costs involved in the manufacture of prebiotic ingredients as compared to probiotic ingredients, there is a relatively large market visibility for probiotic ingredients, though both prebiotics and probiotics are equally beneficial to human and animal health.
Substantial investments in R&D activities and investments in laboratories, research equipment, and hiring trained professionals that require high investment for the development of prebiotic ingredients. Prebiotic ingredient applications are linked with health benefits which make it challenging for manufacturers to get an adequate return on investments on high initial investments.
Growth in the demand for prebiotic ingredients in China, India, and Brazil
Nutraceutical and pharmaceutical industries, especially the API industry, have been experiencing tremendous growth in Asian region. The growth of the nutraceutical industry directly affects the prebiotic ingredients industry as the consumer preference in recent years is toward consuming dietary supplements and natural products for maintaining a healthy diet. Stated by Sarah Stanely, vice president, business development, Friesland Campina, "Asia Pacific was by far the most active region in prebiotic products for galactooligosaccharides, yielding 57% of new products, versus 38% in EU, and 5% elsewhere. New product development was driven by new companies as well as existing players."
Prebiotic ingredients find their major application in infant nutrition; in Asia, the number of children affected by stunting under 5 years of age is the highest among South America, Africa, and Oceania. Many companies are investing in R&D for developing prebiotic products for infant nutrition in this region. The untapped markets in this region have wide availability of cheap labor, advanced technology, and less effective regulations regarding the usage of prebiotics as compared to North American and European countries. The leading market players are also expanding their facilities in China, India, and Brazil, considering the future potential demand in these markets.
Make an Inquiry: https://www.marketsandmarkets.com/Enquiry_Before_BuyingNew.asp?id=219677001
The Prebiotic Ingredients Market in Europe Held the Largest Share Through 2023
High preference for fortified and low-fat bakery products in various countries of the region has encouraged manufacturers to allocate their budget to prebiotic ingredients. Also, as bakery products are considered staple foods in Europe, leading players are expanding to enhance their brand image. Due to these factors, Europe is projected to dominate the market during the forecast period.
Leading players operating in the market include Cargill (US), BENEO (Germany), DuPont (US), Fonterra (New Zealand), FrieslandCampina (Netherlands), and Ingredion (US). Key players operating in this market are adopting strategies such as expansions, new product launches, acquisitions, and partnerships.
All in all, the prebiotic ingredients market is projected to record significant growth during the forecast period. Manufacturers focus on investing in prebiotic ingredients and aligning with the health requirements of consumers to retain their loyalty. They are focusing on expanding in regions such as Europe to enhance their brand image. These factors are projected to reflect positively on the market growth.
Media Contact
Company Name: MarketsandMarkets
Contact Person: Mr. Shelly Singh
Email: Send Email
Phone: 1-888-600-6441
Address:630 Dundee Road Suite 430
City: Northbrook
State: IL
Country: United States
Website: https://www.marketsandmarkets.com/Market-Reports/prebiotics-ingredients-market-219677001.html