Yeast Market: Drivers, Restraints, Opportunities, and Challenges
The yeast market is projected to reach USD 5.40 Billion by 2022, at a CAGR of around 9.0% from 2017 to 2022.
The Yeast Market is projected to account for a Value of USD 5.4 Billion By 2022 Increasing adoption of a health-enriching diet is becoming the new norm among consumers, which is significantly influencing the budget allocation decisions of manufacturers. To maintain their health, consumers are increasingly spending on protein-rich food products such as fermented meat, dairy products, bakery products, and vegetables. Consumers also include fermented food products in their diets, which have encouraged manufacturers to utilize various yeast products. According to MarketsandMarkets, the yeast market is projected to account for a value of USD 5.4 billion by 2022, recording a CAGR of 9.0%.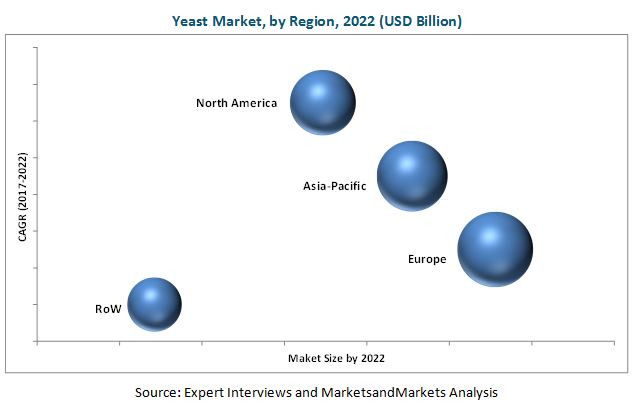 Download PDF Brochure: https://www.marketsandmarkets.com/pdfdownloadNew.asp?id=268
Growth in demand for bioethanol as a fuel
Bioethanol is a renewable source of energy, obtained from seaweeds, which are third-generation biofuel resources, used to produce alternative energy. The increase in demand for bioethanol and improved technologies has fueled the production of bioethanol. Saccharomyces cerevisiae is a species of yeast used for bioethanol-based fermentation of seaweed hydrolysate. The requirement for alternative fuel is growing globally, thus driving the demand for bioethanol as a fuel. Bioethanol is a clean burning fuel source that combusts in the presence of oxygen to form carbon dioxide, water, and aldehydes, and also acts as an alternative to petroleum fuels in the industrial sector.
The fuel efficacy of bioethanol and its ecological characteristics has increased the demand for yeast. The main advantage of bioethanol is that the carbon dioxide emitted during its use is balanced by the carbon dioxide consumed by microorganisms producing bioethanol. The bioethanol industry benefits from lower taxation in some European countries; the U.K. government has reduced fuel duty on bioethanol. AB Mauri (U.K.), one of the largest producers of yeast, offers high-quality yeast products that deliver consistent high alcohol yield to the biofuel industry. With the increasing awareness regarding the applications of bioethanol, the demand for bioethanol yeast is rising, particularly in North America and Europe.
With the growing gap between the global energy requirements and limited energy sources, the bioethanol market has witnessed significant progress over the last few years. According to the Proceedings of the World Congress on Engineering 2011 (Vol III), the legislation targeted the consumption of 28.4 billion liters of bioethanol by 2012, which was around 5% of the total gasoline consumption in the year. Such initiatives will fuel the demand for bioethanol, thus furthering the demand for yeast production.
Stringent food safety regulations
In Asian countries, red yeast products, such as rice is a staple diet. Red yeast rice is made by cultivating rice with various strains of Monascus purpureus. These rice products contain a considerable amount of monacolin K, a chemical ingredient that is similar to the cholesterol-lowering drug, lovastatin. According to the U.S. Food and Drug Administration (FDA), red yeast rice products that contain more than a certain level of monacolin K, cannot be sold legally as a dietary supplement. This implies potential adverse effects, about which consumers need to be informed, in case they are supplied in the form of food supplements. The labeling rules in case of such products in European countries are very stringent.
The active ingredient in red yeast is the same as that in prescription drugs called statins, which are used for controlling high cholesterol. The American Heart Association warns against using red yeast until the studies regarding its safe use are concluded. Therefore, it is a challenge for the producers of this type of yeast to market it as a food ingredient.
Request for Customization: https://www.marketsandmarkets.com/requestCustomizationNew.asp?id=268
Use of new yeast-based raw materials
Sugarcane molasses is one of the main raw materials used by yeast manufacturers, for several decades. The change in its availability has forced yeast manufacturers to develop a raw material that equals the quality of yeast derived through molasses.
Glucose syrup and corn steep liquor are used as alternatives to molasses substrates during the baking process, and are also cheaper than molasses. They consist of Saccharomyces cerevisiae and various nutrients, such as carbohydrates, vitamins, minerals, nitrogen, and phosphate compounds, and are also used as a nutritious substratum in industrial fermentations. Fermentation with glucose syrup supplies the same nutrients as molasses, and they are successfully used as substrates to produce baker's yeast, brewer's yeast, and bioethanol yeast. They provide better return on investment (RoI) where beet and sugarcane production is low. Fermentation with sugars sourced from glucose syrup provides similar quantities of phosphorus and nitrogen in biomass production. Thus, the replacement of molasses would not only help in combating its scarcity as a raw material, but also provide opportunities for more yeast-based raw materials. This move possesses high growth potential for yeast demand in this industry.
Media Contact
Company Name: MarketsandMarkets
Contact Person: Mr. Shelly Singh
Email: Send Email
Phone: 1-888-600-6441
Address:630 Dundee Road Suite 430
City: Northbrook
State: IL
Country: United States
Website: https://www.marketsandmarkets.com/Market-Reports/yeast-industry-268.html