RAVPower is offering Smart USB charger for AA and AAA batteries at less than half the price for first 70 customers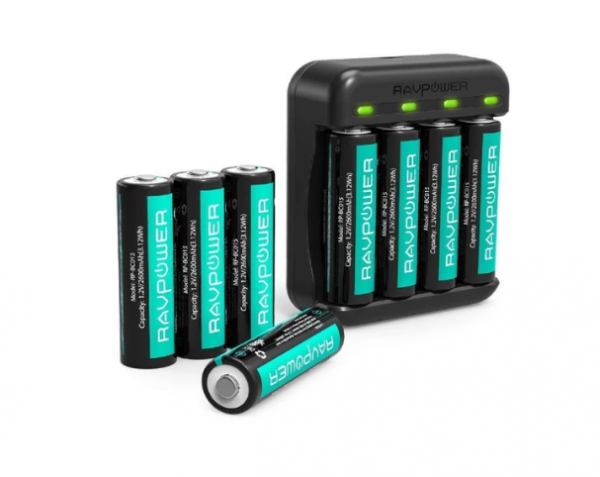 RAVPower is a rapidly growing company that offers a variety of charging solutions such as power banks, car chargers, wall chargers, wireless chargers and replacement batteries to customers all over the globe. The company has recently announced a huge discount on one of the popular products on its website- Smart USB Charger for AA/AAA batteries. The product is currently available at a price of $10.8 instead of the regular price of $23.99 for up to 70 pcs. The charger is equipped with built-in short circuit and overcharge protection. It is highly effective in charging batteries and has a long life cycle.
The product box contains 1 charger, 8 batteries, 1 Micro USB cable, 1 User guide, and 1 Guarantee card. There are 2 negative pins on the same card slot, where the short pin is used to charge AAA batteries and the long pin is used to charge AA batteries. Without plugging the batteries into the charger, when the charger is plugged well, the LED of the charger would turn red, then turn green quickly, and turn off within 5 seconds.
"Just received my batteries and charger. Happy to have ordered this item. No more buying batteries," – says user Carolyn in her review about the product.
Here are the technical specifications of the charger:
Battery Voltage: 1.2V
Battery Capacity: 2600mAh
Battery Types: AA Ni-MH rechargeable batteries (8 pack)
Charger Input: USB 5V, 1000mA
Charger Output: 1.2V, 2500mA (max)
RAVPower offers one-stop power charging solutions for customers around the world. Thanks to the groundbreaking HyperAir technology, the company is able to provide best in class wireless charging solutions, through a variety of portable chargers and charging accessories that allow the users to stay powered anytime and anywhere.
RAVPower, started as a manufacturer of laptop and cell phone batteries and soon after, they diversified their lineup to power banks, wall chargers, car chargers and more. Through its reliable products and seamless customer service, RAVPower has rapidly established itself as a leading provider of charging solutions. It is known to offer innovative products that offer convenience, usability, and value to customers.
The products by RAVPower have also garnered a plethora of accolades, from red dot prizes and great feedback of the customers across the globe.
Use code RPamazing 55% off to get Smart USB Charger for batteries at a discounted price.
See all the products on ravpower.com.
Media Contact
Company Name: Ravpower
Contact Person: Holly Averes
Email: Send Email
Country: United States
Website: www.ravpower.com