Feed Flavors & Sweeteners Market Analysis, Growth, Share, Trends, and Forecast – 2022
The feed flavors and sweeteners market is estimated to value at USD 1236.1 Million in 2017. It is further projected to grow at a CAGR of 3.4% from 2017 to 2022, to reach a projected value of USD 1,463.0 Million by 2022.
The report "Feed Flavors and Sweeteners Market by Type (Feed Flavors and Feed Sweeteners), Livestock (Ruminants, Swine, Poultry, Aquatic Animals), Form (Dry and Liquid), Source (Natural and Synthetic) and Region – Global Forecast to 2022″, The feed flavors & sweeteners market is estimated to value at USD 1,236.1 Million in 2017. It is further projected to reach a value of USD 1,463.0 Million by 2022, at a CAGR of 3.4% from 2017. The market is driven by factors such as increasing demand for palatability boosting ingredients, growing meat and dairy products industries, and increasing awareness of consumers towards quality meat products. Additionally, the implementation of innovative husbandry practices to improve quality of meat product provide feed flavors and sweeteners producers and distributors with lucrative opportunities.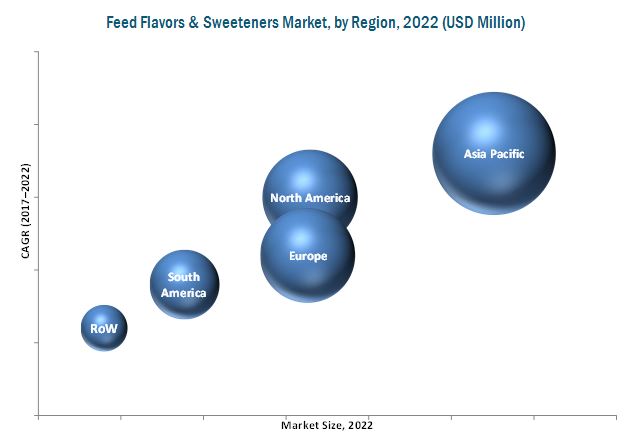 Download PDF Brochure: https://www.marketsandmarkets.com/pdfdownloadNew.asp?id=101817133
Increasing awareness of consumers towards quality meat products
Consumers all over the globe are increasingly demanding quality meat due to the growing awareness regarding the nutritional dynamics of these products. According to The Food and Agriculture Organization (FAO), animals provide over 33% of protein consumed in human diets and around 16% of food energy. Besides, income growth, urbanization, and changes in lifestyles are the major factors impacting the demand for high-quality food. Consumers are now becoming more aware of the quality of food they consume and the benefits associated with food products. As a result, the production of healthy and quality livestock has become important, leading to the surge in demand for quality feed with better palatability. Therefore, flavors and sweeteners products are anticipated to experience a robust demand in coming years.
Owing to the consumers' rising demand for superior-quality meat products, high-end food service sector and supermarkets offering premium brands are now constantly demanding quality meat. This factor instigated livestock producers to provide quality and healthy livestock in order to satisfy the quality standards required by various food players and different markets across the globe. According to The Australian Competition and Consumer Commission (ACCC), "Exports to the European Union are largely high-quality products servicing the high-end food service sector and premium supermarket brands. The need to meet quality and import requirements results in processors sourcing cattle against stringent specifications. These import and quality requirements also mean that cattle producers specialize in preparing animals for the EU market to a certain extent." To be able to fulfill such quality standards, livestock producers all over the world are emphasizing on animal diet as well as on food additives that increase the feed intake of livestock.
Lack of awareness in developing countries
The livestock sector is still evolving in developing countries such as Argentina, India and Brazil. However, a majority of these countries still depend on forages, crop residue, and open grazing to feed the livestock and do not emphasize on the feed quality or palatability. According to the Planning Commission of India (now replaced by successor think tank National Institution for Transforming India) , "only about half of the annual fodder requirement is met from the cultivated fodder and crop residues, whereas open grazing and fodder availability from common property resources like forests, pastures, village commons, etc. fulfills the remaining half of the annual fodder requirement." These conventional methods of feeding animals restrict the growth of the commercial animal feed industry and thereby the growth of the animal feed additives market. Livestock producers and farmers in these countries are still unaware regarding feed additives such as flavors and sweeteners and benefits associated with them. Highly populous and rapidly developing countries, such as India, where livestock production is a major part of agriculture economy are yet to evolve in terms of modern feed additives solution. Nevertheless, better promotional and educational activities about the benefits of flavors and sweeteners products may create huge potential for palatable feed additives in these countries.
Request for Customization: https://www.marketsandmarkets.com/requestCustomizationNew.asp?id=101817133
Asia-Pacific region is estimated to dominate the feed flavors & sweeteners market in 2017
The Asia-Pacific region is projected to be the fastest-growing, which includes India, China, Japan, Thailand, and Vietnam between the years 2017 and 2022. The major driving factors for the market in this region are the continuous modernization of animal production techniques and the growing awareness among the consumers regarding the impact of quality feed provided to the livestock on the animal-based products such as meat and dairy products.
This report includes the study of marketing and development strategies, along with the product portfolios of the leading companies. It includes the profiles of leading companies such as Nutriad (Belgium), Pancosma (Switzerland), Alltech (US), FeedStimulants (the Netherlands), BIOMIN Holding (Austria), DuPont (US), Norel (Spain), Prinova Group (US), Agri-Flavors (US), Origination O2D (US), Kerry Group (Ireland), and Pestell Minerals & Ingredients (Canada) are some of the major feed flavors & sweeteners market participants.
Media Contact
Company Name: MarketsandMarkets
Contact Person: Mr. Shelly Singh
Email: Send Email
Phone: 1-888-600-6441
Address:630 Dundee Road Suite 430
City: Northbrook
State: IL
Country: United States
Website: https://www.marketsandmarkets.com/Market-Reports/feed-flavors-sweeteners-market-101817133.html