Agricultural Enzymes Market Size, Share, Growth, Trends, Industry Overview, and Forecast – 2022
The agricultural enzymes market was valued at USD 251.1 million in 2016 and is projected to reach USD 474.7 million by 2022, at a CAGR of 11.2% during the forecast period.
The report "Agricultural Enzymes Market by Type (Phosphatases, Dehydrogenases, Sulfatases), Product Type (Fertility Products, Growth Enhancing Products), Crop Type (Cereals & Grains, Oilseeds & Pulses, Turf & Ornamentals), and Region – Global Forecast to 2022″, The global agricultural enzymes market is projected to grow at a CAGR of 11.2% to reach USD 474.7 million by 2022 in terms of value. The agricultural enzymes market is growing rapidly owing to factors such as cost savings and increasing demand for biofertilizers. The trend towards sustainable industrial agriculture has created opportunities for agricultural enzyme manufacturers to generate significant revenues by developing enhanced and high-quality products for customers.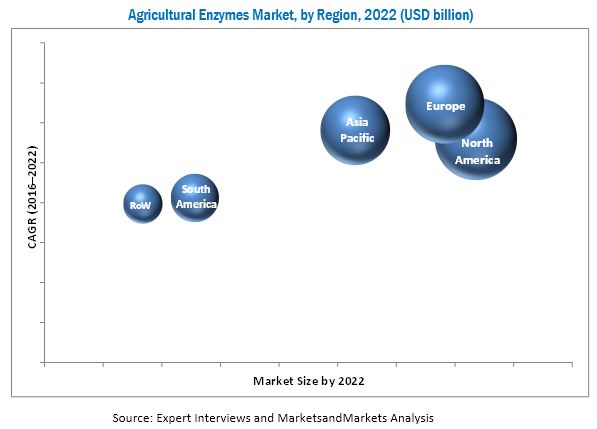 Download PDF Brochure: https://www.marketsandmarkets.com/pdfdownloadNew.asp?id=180483493
Increase in production yield from limited arable land
Farmers are facing problems meeting the ever-increasing demand for agricultural products from the limited arable land. Hybrid crop varieties have significantly solved the issue of yield optimization; however, these crops continue to require enzymes to sustain attacks from pests such as insects and rodents. Enzymes are utilized in fertilizer formulations, pesticides, and insecticides and have specific actions on specific soil nutrients. Some of these enzymes even act as growth enhancers of crops, thus increasing the production of agricultural products within a short span of time. This property of enzymes has acted as a stimulant for farmers facing problems of yield optimization from their limited arable land.
Growing industrialization and urbanization continue to diminish the available arable or cultivable land. The total land available for agriculture is decreasing continuously. Cities and industries are expanding as more people are acquiring land to fulfill their household and industrial needs. According to FAO, the arable land per person has decreased from 0.38 hectares in 1970 to 0.23 hectares in 2000, with a projected decline to 0.15 hectares per person by 2050.
Stringent international regulations related to biological products
There is a lack of clear regulatory guidelines for the use of agricultural enzymes. The European Union (EU) legislation that is being put into effect does not consider enzymes produced through microbial strains. This ambiguity poses a problem to enzyme manufacturers and end-use product industries. For instance, there is a ban on the utilization of genetically modified organisms (GMO) in food and other products in the United Arab Emirates (UAE), but the U.S. government allows their utilization to a certain extent. Hence, such international regulations restrain the manufacturers from entering the market.
Phosphatases segment dominated the agricultural enzymes market in 2016
The phosphatases segment accounted for the largest share in 2016. Phosphatases are a broad group of enzymes that are capable of catalyzing hydrolysis of esters and anhydrides of phosphoric acid and play a vital role in soil systems. It has the ability to solubilize soil mineral elements.
Fertility segment accounted for the largest market share in 2016
The fertility products segment is projected to grow at the highest rate during the forecast period followed by growth enhancing products. Soil fertility products containing soil enzymes such as proteases, dehydrogenases, ureases, sulfatases, and amylases are important in catalyzing several vital reactions necessary for the life processes of micro-organisms in soils and the stabilization of soil structure.
Request for Customization: https://www.marketsandmarkets.com/requestCustomizationNew.asp?id=180483493
Europe: Lucrative market for opportunities for the agricultural enzymes market
In 2016, North America accounted for the largest share of the global agricultural enzymes market. The market in Europe is also projected to grow at a significant CAGR during the forecast period. This region comprises countries such as France, Spain, Germany, Italy, the U.K., and Rest of Europe wherein the Spain is a key producer of various agricultural applications. This report includes a study of marketing and development strategies, along with the product portfolios of leading companies. It includes the profiles of leading companies such as Novozymes A/S (Novozymes BioAg) (Denmark), Syngenta AG (Switzerland), E. I. du Pont de Nemours and Company (U.S.), Koninklijke DSM N.V. (Netherlands), BASF SE (Germany), and Bayer AG (Germany).
Media Contact
Company Name: MarketsandMarkets
Contact Person: Mr. Shelly Singh
Email: Send Email
Phone: 1-888-600-6441
Address:630 Dundee Road Suite 430
City: Northbrook
State: IL
Country: United States
Website: https://www.marketsandmarkets.com/Market-Reports/agricultural-enzymes-market-180483493.html