Demonologist for hire, the multi-award-winning web series launches Kickstarter campaign for their third season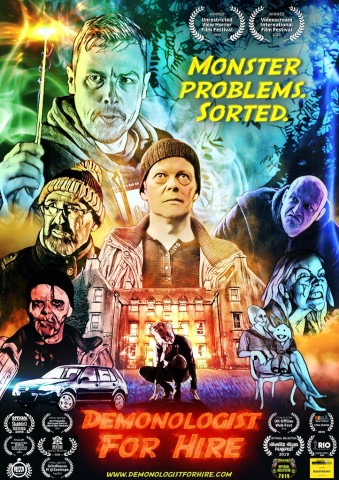 Demonologist for Hire is a multi-award-winning supernatural comedy web series set in a world where all kinds of unearthly creatures are part of everyday life. The story is based in Scotland but not Scotland as we know it, as here random noises from outside the window and watching a shadowy figure walking through the hallway is pretty mundane. To eliminate these creatures, people just call the Demonologist as they would call a plumber. After the great response for the first two seasons of the series, the third series is coming soon and the makers are currently running a Kickstarter campaign to raise funds for the making and distribution.
In Scotland, ghosts, ghouls, elves, and werewolves exist and are part of everyday life. For the most part, these supernatural creatures stay out of sight but when one of them starts creating a nuisance, people have no option but to call a Demonologist: www.demonologistforhire.com. Demonologist for Hire has received the award of Best web series at the Videoscream International Film Festival, Portland, Oregon and Best Web Series at Unrestricted View Horror Film Festival, London, UK. The web series also received 3 nominations at the Seoul Web Fest, South Korea and has screened at over 15 festivals worldwide including the United States, South Korea, Russia, and the UK.
The makers of the web series, writer/creator Bryn Owen, director Uisdean Murray, and actor Ronni Menzies-Stirling, are inspired by Scottish folklore with its rich history and breathtaking locations, something they hope to explore more in upcoming episodes. While the makers funded the first two seasons of the web series themselves, they want its third season to be the most amazing one yet, for which they have turned to crowdfunding. The funds raised from the campaign will be used to produce the next four episodes of Demonologist for Hire and will help cover the cost of hiring industry professionals, location costs, renting professional equipment, make-up artists for creatures, special effects, and original music. The additional money raised from the campaign will go to the VFX budget which means more supernatural beings and amazing visual effects.
More information about the web series can be found on their Kickstarter campaign page.
Watch the two seasons of the series on YouTube.com/demonologistforhire.
Media Contact
Company Name: Lily Island Films Ltd.
Contact Person: Uisdean Murray
Email: Send Email
Country: Scotland
Website: www.demonologistforhire.com