Global LED Headlight Market 2019-2025 | Size-Share-Opportunity Trends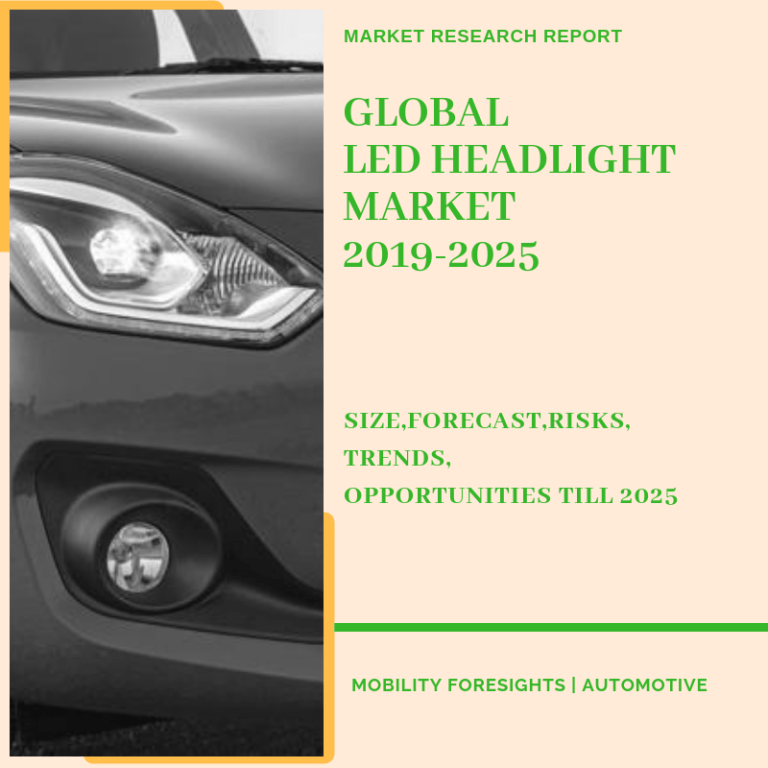 Key contents of the Global LED headlight Market report include:
• Market size & Forecast segmented by region, vehicle and headlight type
• Technology trends, LED penetration by OEM, avg B-2-B price
• OE-supplier alignment, by region
• Competitive landscape, market share and growth strategy of leading vendors
KEY FINDINGS
The average generation change/update period for passenger cars is now 5 years as compared to 7-8 years a decade ago, for refresh/facelift is 2-3 years. Every refresh/update entails a lighting design change and higher degree of LED inclusion depending on segment; therefore, the supplier must have complete light design/re-design capability in shorter and even limited lead times
In passenger car segment, LED adoption in frontal lighting has started trickling down to mass segment from mid-high segment since early 2018. Reflective based solution, which offer excellent mix of price and performance are getting higher preference
In motorcycle/scooter segment, LED penetration has grown significantly in 2016-2019.The upcoming shift to electric two-wheelers will further drive LED headlight market growth
In CV segment, LED headlight adoption has remained constrained (offered as an option) in US and European heavy-duty commercial vehicle market, due to cost reasons but ~70% of the new platforms under development have LEDs either at front or rear
In terms of raw material, with significant cooling of Chinese economy, price of major raw materials like plastics, resins (PMMA, ABS) is expected to remain subdued at least till 2021
Download sample- http://bit.ly/LEDhlit
LED HEADLIGHT MARKET TRENDS
In passenger cars, use of LEDs in the styling elements of head lamps such as position lamps and signature lamps on the increasing trend. This trend looks to continue in the near future. Additionally, LED content is gradually increasing in adaptive LED headlights
In commercial vehicle segment, LEDs typically last the planned life-cycle of four to five years as compared to 1 year or less for halogen lights, therefore in US and Europe, many fleet operators are now retro-fitting their trucks with LED headlights
In two-wheeler segment, the upcoming BS VI emission norms in India will require a fuel injection system, higher electronics content including ECUs, sensors. Therefore, inclusion of LEDs will result in light weighting and low voltage consumption by almost six or seven times and LED headlight penetration will grow.
Download sample- http://bit.ly/LEDhlit
COMPANY PROFILES
Valeo S.A
Magnetti Marelli S.p.A
HELLA KGaA Hueck & Co
ZKW Group
OSRAM GmbH
Koito Co, Letd
Stanley Electric Co.Ltd
Hyundai Mobis Co., Ltd
Varroc Group
Minda Industries Ltd
Lumax Industries
Fiem Industries
Truck-Lite (Rigid Industries)
THIS REPORT WILL ANSWER FOLLOWING QUESTIONS
LED headlights Market size and Forecast (Units and $Million), by region, by vehicle type and vehicle segment
Average B-2-B price for LED headlights, by region, by vehicle type
Technology trends and related opportunity for LED headlight manufacturers
Market share of leading vendors, by region, by product segment
OE-supplier alignment in LED headlight market, by region
To enquire about the report write to us at [email protected]
We are a Market Research firm specialized in mobility domain(s). Our zone of research entails Automotive, Aerospace, marine, locomotive, logistics, and construction & agricultural equipment. We deal in syndicated research, custom research and consumer research for all the aforementioned domains.
Visit us at https://mobilityforesights.com/
Media Contact
Company Name: Mobility Foresights
Contact Person: Kunal Roy
Email: Send Email
Phone: +1-315-675-4056
Address:Incubex Nestavera 204,56/2
City: Bangalore
State: Karnataka
Country: India
Website: https://mobilityforesights.com/