Jarafa.com Launches Their Online Platform for Reselling business in Bangladesh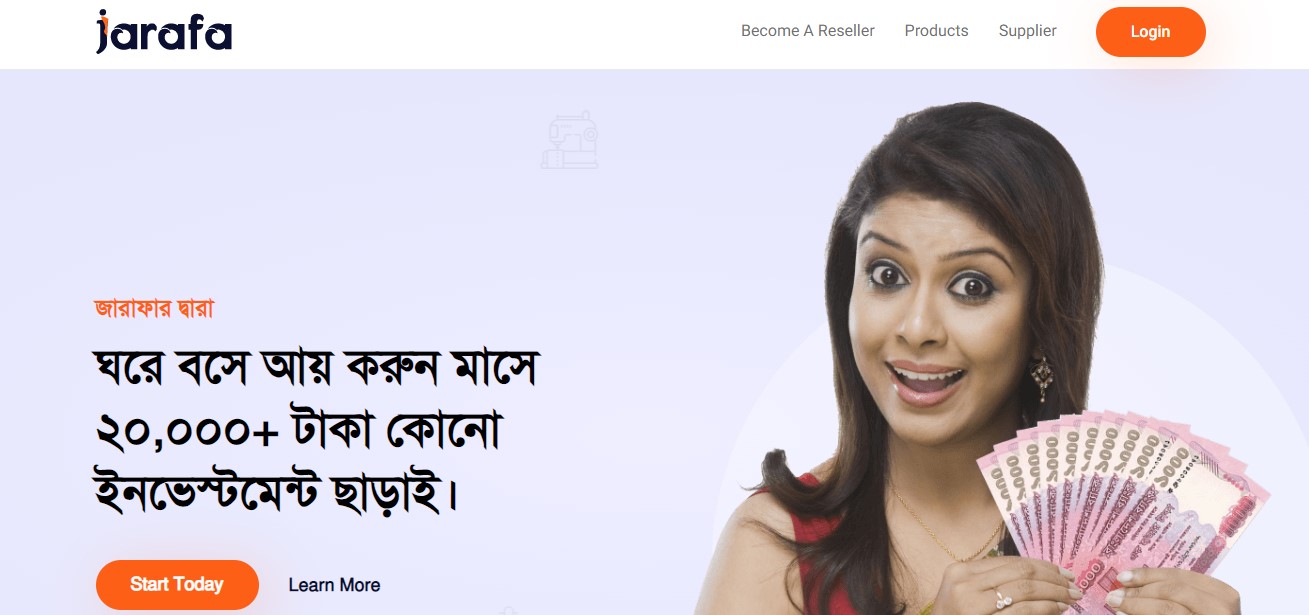 Jarafa.com is a B2B business initiative for wholesalers and resellers to connect and sell on a bigger scale.
As the online business sector of Bangladesh grows with time, people have been searching for a trustworthy marketplace where they can do more than simply shopping. With a mismatched economic sector like ours, where there aren't enough opportunities for people or the opportunity does not match the expectations, more and more people are looking to engage themselves in online businesses. Keeping this in mind, Jarafa.com brings forward the idea of a strong and active platform where people can engage in successful business with minimum to zero investment. To put that into perspective, anyone can run a business from anywhere in the country with only a smartphone or computer with this initiative.
While this is not the first of its kind in Bangladesh, Jarafa is hoping to be the best one. With the governments' goal of digitalizing the country, people now have easy access to fast internet service. As of 2021, according to BTRC, Bangladesh has 112 million active internet users. This opens up the possibility of a vast market place just waiting to be utilized. Jarafa wants to give people the proper tools and support to create a successful existence in this online market.
Jarafa.com is a B2B business initiative for wholesalers and resellers to connect and sell on a bigger scale. The company declared that any wholesaler can register his shop on Jarafa by following a very simple procedure. From then on, Jarafa claims take care of everything. Becoming a reseller is similarly easy. Someone can just fill up the registration form, verify their identity and they will become a reseller without any investment. Jarafa uploads product photos and videos on their website. A reseller can log into his account and access these materials, then upload them on their own facebook page. They get a handsome commission on every sell they make. Jarafa's delivery team makes sure that the product is safely delivered to the customer and the logistic team makes sure that their wholesaler and reseller receive the commission.
Jarafa officials stated that they have well a mainained set of policies to make sure the operation runs smoothly and all parties concerned get their proper share. "We understand peoples' needs and the costs of maintaining a business in our country. That is why we want to be the company that creates more opportunities for those in need and make the wholesaler to customer transaction process easier. With our resources, we can provide small-time businesses a chance to expand all over the country while our resellers make their profit by selling the products through their social media platform. If you consider from business point of view, this is a win win situation for everybody. Our delivery team will make sure that the customer end is always satisfied with the service which is highly unlikely in current online market." said the managing director of Jarafa.com, Md. Fahad, in a recent interview. "We are hoping that our company would specially help our greater half community who are mostly housewives, or educated women in search of a stable earning source along with the youth of this country who are struggling to survive in this highly competitive job market and our retired citizens who are looking for something to do with their idle time to provide for himself/herself and their family.
"With our marketplace and the most basic knowledge of internet, anyone can find a trustworthy income source and make a better living."
Jarafa.com recently announced that they are also creating a small loan program for business enthusiasts with a solid plan. The company asserts that a lot of people want to create their own product inventory but lack the capital. Jarafa wants to step in in such initiatives by providing conditions applied loans. They hope that this loan scheme would aid small time independent businesspersons on an extensive scale.
With these plans of action on hand, Jarafa.com is planning to make a great impact on the online marketplace of Bangladesh. They claim that their presence would positively intensify the internet-based economic sector of Bangladesh while empowering a community indifferent to gender, social status or personal occupation. With its no investment business plan and small loan program, Jarafa.com is progressing towards becoming a strong support system with proper resources to operate all over the country.
ABOUT JARAFA.COM
Created in 2020, Jarafa.com is already Bangladesh's one of the largest and most efficient social commerce platforms, built by the initiative of Md. Fahad. The company's headquarters is located in Dhaka, Bangladesh.
Jarafa.com's mission is to enable anyone to start their businesses with zero investment. While attracting a lot of housewives (between 25-45) from middle-income households, this marketplace has reached the crowd of young and old alike, removing any and all gender differences.
The company's marketplace offers entrepreneurs the right supply across 100+ categories, logistics, and payment abilities to successfully run businesses. Their social sharing integrations with Facebook, WhatsApp, and Instagram enable entrepreneurs to monetize large social networks such as family, friends, and more.
Jarafa.com was established to know that small businesses are the backbone of Bangladesh's economy, with 80% of all GDP contribution. However, these businesses are still offline and have struggled to become successful online. The team at Jarafa.com believes that Bangladesh's economy will genuinely be digitized when small businesses become successful online, and they want to enable that revolution. In the long run, the company did realize that online resellers mainly were those who do not own physical shops but love to sell in their social network. They understood that this would be the usual pattern of small businesses in the future. The team came together to build a marketplace to democratize social commerce and enable anyone literally to start their venture. Today according to estimation, their products have been able to aid more than 100K entrepreneurs.
For information as to how to use the Jarafa.com Website or for general information as to whether or not Jarafa.com can be trusted, do visit https://Jarafa.com
Media Contact
Company Name: Jarafa.com
Contact Person: Mohammad Al Omayer
Email: Send Email
Phone: +8801406258811
Address:509, Mirpur
City: Dhaka
Country: Bangladesh
Website: https://www.jarafa.com/