Restless Legs Syndrome Epidemiology Forecast by DelveInsight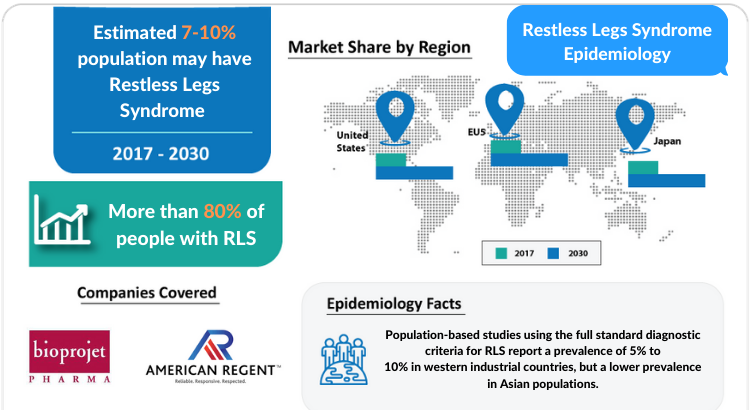 "Restless Legs Syndrome Epidemiology" report has been added to DelveInsight
DelveInsight's 'Restless Legs Syndrome Epidemiology Forecast to 2030′ report delivers an in-depth understanding of the disease, historical and forecasted Restless Legs Syndrome epidemiology in the 7MM, i.e., the United States, EU5 (Germany, Spain, Italy, France, and the United Kingdom), and Japan.
Restless Legs Syndrome Overview
Restless legs syndrome (RLS), also called Willis-Ekbom Disease, causes unpleasant or uncomfortable sensations in the legs and an irresistible urge to move them. Symptoms commonly occur in the late afternoon or evening hours, and are often most severe at night when a person is resting, such as sitting or lying in bed. They also may occur when someone is inactive and sitting for extended periods (for example, when taking a trip by plane or watching a movie).
Request free sample copy @ https://www.delveinsight.com/sample-request/restless-legs-syndrome-epidemiology-forecast
Restless Legs Syndrome Epidemiology: Regions Covered
The United States
EU5 (Germany, France, Italy, Spain, and the United Kingdom)
Japan
Restless Legs Syndrome Symptoms
Since symptoms can increase in severity during the night, it could become difficult to fall asleep or return to sleep after waking up. Moving the legs or walking typically relieves the discomfort but the sensations often recur once the movement stops. RLS is classified as a sleep disorder since the symptoms are triggered by resting and attempting to sleep, and as a movement disorder, since people are forced to move their legs in order to relieve symptoms. It is, however, best characterized as a neurological sensory disorder with symptoms that are produced from within the brain itself.
Restless Legs Syndrome Causes
RLS is one of several disorders that can cause exhaustion and daytime sleepiness, which can strongly affect mood, concentration, job and school performance, and personal relationships. Many people with RLS report they are often unable to concentrate, have impaired memory, or fail to accomplish daily tasks. Untreated moderate to severe RLS can lead to about a 20 percent decrease in work productivity and can contribute to depression and anxiety. It also can make traveling difficult.
Restless Legs Syndrome Treatment
RLS can be treated, with care directed toward relieving symptoms. Moving the affected limb(s) may provide temporary relief. Sometimes RLS symptoms can be controlled by finding and treating an associated medical condition, such as peripheral neuropathy, diabetes, or iron deficiency anemia.
Restless Legs Syndrome Diagnosis
A diagnosis of RLS does not indicate the onset of another neurological disease, such as Parkinson's disease. In addition, some individuals have remissions—periods in which symptoms decrease or disappear for days, weeks, months, or years—although symptoms often eventually reappear. If RLS symptoms are mild, do not produce significant daytime discomfort, or do not affect an individual's ability to fall asleep, the condition does not have to be treated.
Key facts of Restless Legs Syndrome Epidemiology Report
It is estimated that up to 7-10 percent of the U.S. population may have Restless Legs Syndrome. It may begin at any age. Many individuals who are severely affected are middle-aged or older, and the symptoms typically become more frequent and last longer with age. More than 80 percent of people with RLS also experience periodic limb movement of sleep (PLMS).
A total of 16, 202 adults (aged ≥18 years) were interviewed using validated diagnostic questions to determine the presence, frequency, and severity of RLS symptoms; respondents reporting RLS symptoms were asked about medical diagnoses and the impact of the disorder and completed the Short Form-36 Health Survey (SF-36). In all, 15,391 fully completed questionnaires were obtained; RLS symptoms of any frequency were reported by 1114 (7.2%). This study concluded that clinically significant RLS is common (prevalence, 2.7%), is underdiagnosed, and significantly affects sleep and quality of life.
Population-based studies using the full standard diagnostic criteria for RLS report a prevalence of 5% to 10% in western industrial countries, but a lower prevalence in Asian populations.
Restless Legs Syndrome Epidemiology Segmentation in the 7MM [2017–2030]
Prevalent Cases
Gender-specific prevalent cases
Diagnosed and treatable cases
Age-specific prevalent cases
Severity-specific prevalent cases
Type-specific prevalent cases
Request free sample copy @ https://www.delveinsight.com/sample-request/restless-legs-syndrome-epidemiology-forecast
Table of content
1. Key Insights
2. Executive Summary of Restless Legs Syndrome
3. Restless Legs Syndrome: Disease Background and Overview
4. Patient Journey
5. Epidemiology and Patient Population
6. Treatment Algorithm, Current Treatment, and Medical Practices
7. KOL Views
8. Unmet Needs
9. Appendix
10. DelveInsight Capabilities
11. Disclaimer
12. About DelveInsight
Restless Legs Syndrome Key Assessment
Patient Segmentation
Disease Risk and Burden
Risk of disease by the segmentation
Factors driving growth in a specific patient population
Restless Legs Syndrome Report Highlights
11-Year Forecast of Restless Legs Syndrome epidemiology
7MM Coverage
Total Cases of Restless Legs Syndrome
Total Cases of Restless Legs Syndrome according to segmentation
Diagnosed cases of Restless Legs Syndrome
Restless Legs Syndrome Research Methodology
The objective of updating DelveInsight coverage is to ensure that it represents the most up-to-date vision of the industry possible. The DelveInsight is a fully integrated solution for comprehensive intelligence on various pharmaceutical products, both in the market and in the pipeline, across the globe.
About DelveInsight
DelveInsight is a Business Consultant company and serves as a Knowledge partner across the value chain of the Pharmaceutical Industry. With the use of proprietary databases and analytical models, DelveInsight provides cutting-edge market and pipeline analysis and API intelligence across all therapy areas to the Pharma and biotech sector, helping clients to quantify market events and evaluate their impact on the valuation of products, portfolios, and companies.
Contact us
Shruti Thakur
+91-9650213330
Media Contact
Company Name: DelveInsight Business Research LLP
Contact Person: Yash Bhardwaj
Email: Send Email
Phone: +919650213330
Address:304 S. Jones Blvd #2432
City: Las Vegas
State: NV
Country: United States
Website: https://www.delveinsight.com/