Unvoiced Heart – Providing the best opportunities to writers is their goal
Unvoiced Heart Publication is a platform that searches for talented writers and gives their aspirations a significant push to follow their dream of getting their book published at achieving it with excellence.
We have always been hearing that "Books are our best friend" and indeed they are! Books are the ones who take us to their magical world where we have the power to enchant ourselves with the story and its characters. But the real essence of a book is its writer. A book may be simply a story for the reader, and in case if the story creates a profound impact on the reader, it can turn out to be an emotion or a deep feeling, but a book is the dream of a writer.
A writer puts all his mind and soul into crafting a masterpiece in the form of a book, and thus a book is a beautiful dream with every element of the writer. After jotting down his emotions in the form of an elegant story, every writer dreams to let it reach out to millions of other hearts and convey the beautiful message to others to connect with them deeply. And this is only possible if the book gets published. No matter how creatively a writer crafts his most profound emotions in the form of a story, poetry, or letter until he gets it published, it's nothing but limited to the writer himself. This dream may seem next to impossible until you have heard of "Unvoiced Heart Publication."
Unvoiced Heart Publication is a platform that searches for talented writers and gives their aspirations a significant push to follow their dream of getting their book published at achieving it with excellence. Founded and Organized by Aashna Chawla and Surya Chawla, a brother-sister Duo decided to make writers believe in their work and talent and make them achieve their dream. Unvoiced Heart Publication is an online book publication that furnishes new and talented writers with various book publishing services, including printing, editing, paper-back. Furthermore, it makes the book available on the most prominent digital platforms like Amazon, Flipkart, Kindle, and many more. Unvoiced Heart delivers all these services at a great deal and affordable price range. Digital platforms are exceptionally prominent among the readers globally, and Unvoiced Heart helps the writers to reach out to those national and global readers who crave quality reading.
Unvoiced Heart Publications is based in Nagpur and operates works therein. They have a fanbase of 2.5 Thousand followers on Instagram and expect to raise this count to a Higher number soon. Unvoiced Heart Publications also support and are connected to many other organizations as well. The motive of Unvoiced Heart is to provide excellent opportunities to the writers and lead them to the path of success. They follow the motto, "Our success is not distinguished from our Writers' success, We are One!". They have also been a good source of business for the compilers which compile Anthologies and bring in a greater circle of writers' talent. To appreciate the skills of talented writers, they provide certifications to all the participating writers.
They have been successful in raising their writers' community to more than 5000 writers, which include Anthology Writers as well. The success of Unvoiced Heart Publications is reaching its new heights with the progressive work of its writers and community members. These are the pillars of Unvoiced Heart and are praised for effortless hard work, utmost integrity, and timely delivery of the books. They never fail to impress the people with their effective services. Unvoiced Heart Publications is growing its prominence among the people showing their dignity and honesty in their services.
Unvoiced Heart Publications have reached 100 book publications in the short span of just nine months and raised this count to 150+ books in 13 months, which is an appreciable count. They have brought the brightest smiles on the faces of thousands of people with their work, including aspiring writers and mesmerizing readers. They have received immense appreciation in blessings by serving the most honest services to a vast writers' community.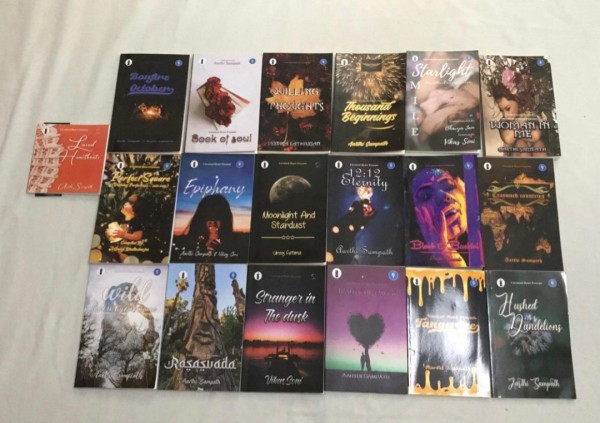 When it comes to looking after the hands who have been working day and night behind this entire project, it's just the team of 5 who toil hard to give the writers' community the desired recognition in a broader platform. The Unvoiced Heart is the entire publishing journey from choosing the package to providing a proper name to the book to getting the manuscript further to see the cover page with their respective characters. Each step of publishing with Unvoiced Heart takes the writer one step closer to his dream, which he thought would be impossible, and helps the writer grow! Unvoiced Heart is the perfect example of making Impossible turn into I'm Possible for aspiring writers. They support you like family and believe and embrace this fact as well. They believe in standing strong today and turning out stronger together and tomorrow as a Family!
Media Contact
Company Name: Unvoiced Heart
Contact Person: Aashna Chawla
Email: Send Email
Phone: 9637544666
Country: India
Website: https://unvoicedheart.com