Rising Cases of Chronic Wounds Boosting Latin America Wound Dressing Market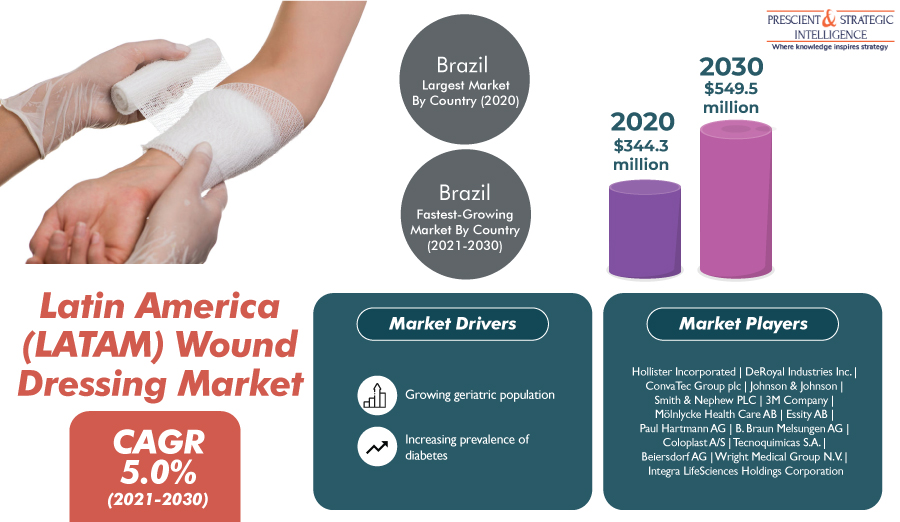 Brazil is the most-productive country in the LATAM wound dressing market presently, and it will also experience the highest CAGR in the coming years by P&S Intelligence.
The number of people living with diabetes in Latina America (LATAM) is set to increase to 40 million by 2030 from 25 million in 2011, as per the World Health Organization (WHO). As a result, the LATAM wound dressing market revenue is predicted to grow from $344.3 million in 2020 to $549.5 million by 2030, at a 5.0% CAGR between 2021 and 2030.
This is because among the many complications of diabetes are complex and long-lasting wounds, such as diabetic foot ulcers. In essence, the LATAM wound dressing market is being driven by the fact that such wounds develop quickly and heal slowly, which leads to the high-volume requirement for various types of wound dressing products. Moreover, with the geriatric population (65 years and above) in the LATAM and Caribbean region set to rise from 8.7% to 19.0% of the total from 2019 to 2050, the prevalence of diabetes will only surge.
Download report sample at: https://www.psmarketresearch.com/market-analysis/latam-wound-dressing-market/report-sample
The COVID-19 pandemic hurt the LATAM wound dressing market in 2020 due to the closing down of outpatient clinics and other non-essential hospital departments. Moreover, the restrictions on the movement of people led to a drastic drop in the number of accident cases, thereby reducing the prevalence of complex wounds. Similarly, the non-operational surgery departments resulted in a low occurrence of surgical wounds, thereby leading to the reduced demand for wound dressing in the region. However, since the availability of COVID vaccines has started to restore normalcy in the everyday life, the market is expected to recover by 2021-end.
LATAM Wound Dressing Market Segmentation Analysis
In the coming years, the LATAM wound dressing market will witness the faster growth in the advanced bifurcation, under the type segment. The demand for advanced wound dressings, which accelerate the healing process, keep the wound moist, and allow for gaseous exchange, is rising on account of the increasing cases of chronic diseases.
The chronic wound bifurcation, based on application, is projected to continue holding the larger share in the LATAM wound dressing market in the near future. Fungating wounds, diabetic foot ulcers, pressure ulcers, venous leg ulcers, and other types of chronic wounds require a longer healing period. This creates the need for the frequent application of wound dressing products.
Major companies in the LATAM wound dressing market are Hollister Incorporated, ConvaTec Group plc, DeRoyal Industries Inc., Johnson & Johnson, Mölnlycke Health Care AB, Smith & Nephew PLC, 3M Company, Paul Hartmann AG, Essity AB, Braun Melsungen AG, Tecnoquimicas S.A., Coloplast A/S, Beiersdorf AG, Wright Medical Group N.V., and Integra LifeSciences Holdings Corporation.
Browse full report at: https://www.psmarketresearch.com/market-analysis/latam-wound-dressing-market
Key Findings of LATAM Wound Dressing Market Report
Growing prevalence of chronic diseases strongest market driver
Market to recover post-COVID by end of 2021
Traditional wound dressing losing ground to advanced variants
Widest application of wound dressing witnessed at hospitals & specialty clinics
Brazil to offer best LATAM wound dressing market investment opportunities
Players engaging in mergers and acquisitions to consolidate competition
Market Size Breakdown by Segment
By Type
Advanced

Foam
Hydrocolloid
Film
Alginate
Antimicrobial
Hydrogel
Collagen
Hydrofiber
Wound contact layer
Superabsorbent

Traditional
Conforming bandages
Sticking plasters

Gauzes
Sponges
Abdominal pads
Fixation tapes
By Application
Chronic Wounds

Diabetic foot ulcers (DFUs)
Pressure ulcers
Venous leg ulcers (VLUs)
Others

Acute Wounds

Surgical and traumatic wounds
Burns
By End User
Hospitals & Specialty Clinics

Inpatient settings
Outpatient settings

Home Healthcare
Long-Term Care Settings
Geographical Analysis
Brazil Wound
Mexico Wound
Colombia
Argentina
Chile
Peru
Ecuador
Browse Other Related Report
Wound Dressing Market – https://www.psmarketresearch.com/market-analysis/wound-dressings-market
Hong Kong Wound Dressing Market – https://www.psmarketresearch.com/market-analysis/hong-kong-wound-dressing-market
Media Contact
Company Name: P&S Intelligence
Contact Person: Abhishek
Email: Send Email
Phone: +918887787886
Address:Noida Sector 2
City: Noida
State: UP
Country: India
Website: https://www.psmarketresearch.com/market-analysis/latam-wound-dressing-market