Indian Coding and Marking Systems Market to Grow With Double-Digit CAGR says P&S Intelligence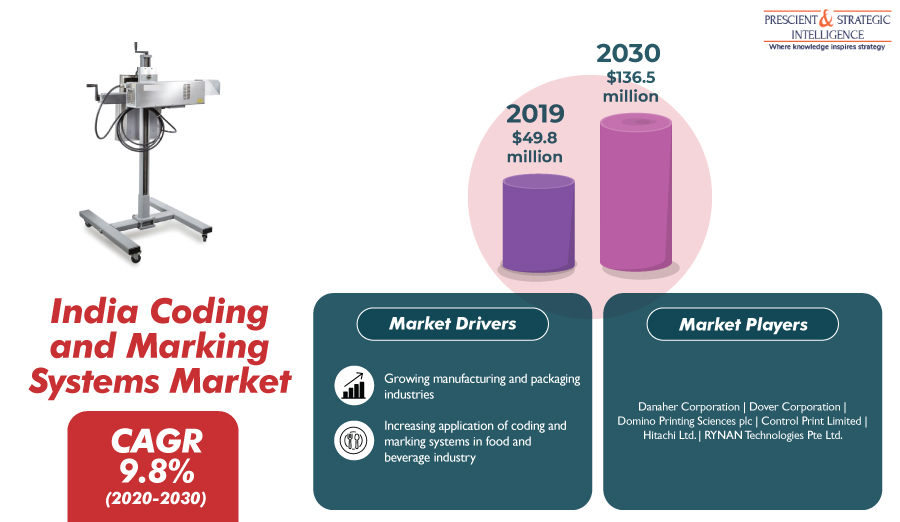 The Indian coding and marking systems market is expected to reach $136.5 million by 2030, registering a CAGR of 9.8% during 2020–2030.
Strict regulations are imposed on food and beverage and pharmaceutical companies, which mandate them to mention all product details on the secondary or primary packaging. As a result, the Indian coding and marking systems market will grow to $136.5 million in 2030 from $49.8 million in 2019, at a 9.8% CAGR between 2020 and 2030, as these systems are used to print such information on the product packaging.
The COVID-19 pandemic has negatively affected the Indian coding and marking systems market due to the closing down of manufacturing facilities. Since these systems are widely used by chemical, electrical and electronics, and automotive companies, the shutdown of their plants, in compliance to the lockdown measures, reduced the demand for them.
Download report sample at: https://www.psmarketresearch.com/market-analysis/india-coding-and-marking-systems-market/report-sample
The continuous inkjet category held the largest share in the Indian coding and marking systems market in the past, based on technology. Continuous inkjet coders and markers print at a high speed, and they can operate on a wide range of surfaces and materials, which increases their utility for users. Moreover, these systems can run continuously, with minimal requirement for servicing, therefore offer cost advantages.
In the coming years, the fastest growth in the Indian coding and marking systems market will be observed in the food and beverage category, on the basis of end user. Coding and marking systems are not only used to print the manufacturing and expiry dates, manufacturer contact details, batch number, nutritional facts, and ingredient list on the food and beverage packaging, but also for printing codes that help companies keep a track of the products as they move through the factory.
The most prominent companies in the Indian coding and marking systems market are Dover Corporation, Danaher Corporation, Control Print Limited, Domino Printing Sciences plc, RYNAN Technologies Pte Ltd., and Hitachi Ltd.
Browse full report at: https://www.psmarketresearch.com/market-analysis/india-coding-and-marking-systems-market
Key Findings of India Coding and Marking Systems Market Report
• Stringent packaging regulations increasing demand for coders and markers
• Coding and marking systems also being used to track products through supply chain
• Growing packaging and manufacturing sectors driving market growth
• TTO technology to witness fastest rise in popularity among users
• Market consolidated owing to presence of handful of players
• Digital printing solutions are key market trend
Market Size Breakdown by Segments
By Technology
Continuous Inkjet
Thermal Transfer Overprinting (TTO)
Thermal Inkjet
Drop on Demand (DoD)
Print and Apply Labeling
Laser Coding and Marking
By End User
Food and beverage
Electrical and electronics
Automotive and Aerospace
Chemical
Healthcare
Browse Other Related Reports
Coding and Marking Systems Market – https://www.psmarketresearch.com/market-analysis/coding-and-marking-market
U.S. Coding and Marking Systems Market – https://www.psmarketresearch.com/market-analysis/us-coding-and-marking-systems-market
Media Contact
Company Name: P&S Intelligence
Contact Person: Abhishek
Email: Send Email
Phone: +918887787886
Address:Noida Sector 2
City: Noida
State: UP
Country: India
Website: https://www.psmarketresearch.com/market-analysis/india-coding-and-marking-systems-market