Enabling small and medium-sized businesses in developing countries to participate in Global Value Chains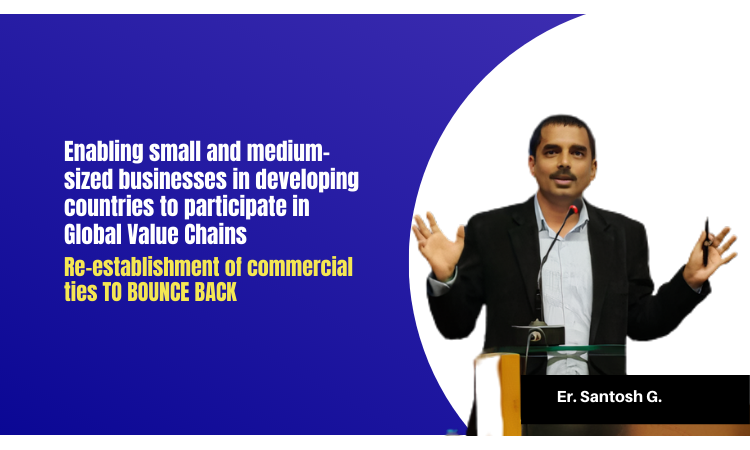 Er. Santosh G., Global Chairperson, Global Council for the Promotion of International Trade (GCPIT) –
He loves to dig into customer problems and solve them with emerging technology. He creates, scales and optimizes product portfolios that matter. To accomplish this, he focuses on key results, builds amazing teams and quickly adapts to new insights. 
We are making efforts to foresee how small businesses worldwide will survive in the storm and where our efforts should be concentrated.
There is no way to know how widespread the pandemic will be among small businesses around the world at this time. Liquidity crises have the potential to destroy large portions of the economy, and smaller businesses are already or will soon be affected. Many difficulties await them in the months ahead, which will largely be affected by politicians' actions in the current crisis.
There are numerous problems for small-business owners.
It is likely that businesses will go through four stages, which are as follows:
(1) going out of business,
(2) supply chain disruption,
(3) demand slowdown, and
(4) eventual recovery.
Government policies will determine how much disruption each stage of the process causes. We know the results will be terrible; all we're concerned about is how long the problem will last.
While MSMEs are moving from shutdown to recovery, they are encountering a variety of risks to their survival:
Liquidity and demand are decreasing: Many buyers have decided to delay payments, even in commodity-based industries, as a result of decreased demand for the businesses and entrepreneurs we help. Small- and medium-sized enterprises (MSMEs) have limited cash reserves, and when there is a liquidity crisis, these enterprises are the first to go out of business.
Controlling inventory and acquiring supplies: It is no longer uncommon for MSMEs to source their inputs from other countries, which is a result of supply chains growing longer and more complex. For the garment manufacturers with whom we work in North Africa, Chinese fabrics have become increasingly scarce, and as a result, essential inputs, like fabric, have also fallen short in terms of orders.
Constantly looking out for your workplace: It is difficult for manufacturing micro- and small- and medium-sized businesses to remain open during a lockdown since manufacturing premises are not constructed for social separation. In response to massive outmigration from cities, workers have simply disappeared. It may be difficult to reactivate them. Many governments have stopped subsidising farmers even while the agricultural calendar persists.
The lack of clarity and stability: in policies and supply chains. Changes are being made quickly. Because many small and medium-sized enterprises (MSMEs) operate by themselves, they are unable to form crisis teams to monitor changes. One of our clients claims that fresh vegetables at an airport have been delayed because of the absence of passenger air travel. A significant liability is created by disruptions in the supply chain, such as grounded airlines.
Having to contact an emergency service: A number of our client firms operate on the fringes of the formal economy or conduct business outside of the rules. A small percentage of welfare recipients take advantage of government-sponsored support networks. Finding a way to assist governments in setting up emergency support may be difficult.
By participating in global value chains, small and medium-sized enterprises (SMEs) can go global. Global Value Chain Mapping helps us to better understand the factors that affect SME growth in low-income countries. Some governments have set up industrial policies, with the goal of encouraging certain economic sectors, but they have been much less helpful to small and medium-sized enterprises (SMEs), which have instead had to struggle to find global recognition. Nevertheless, the prominence of small- and medium-sized enterprises (SMEs) in terms of employment, earnings, and exports is growing recognised. International organisations like the World Bank, the Organisation for Economic Co-operation and Development, and many others have conducted studies and sponsored meetings, including meetings for the heads of state of various countries, to bring attention to the significance of small businesses and how governments can increase their supply capabilities.
The first step governments should take is to better support skill development. in order to participate in global value chains, small and medium-sized enterprises (SMEs) must be dynamic and innovative. To say that implies they have to be able to hire highly specialised personnel, in particular people with specific abilities.
The other reason governments must help small businesses adhere to international norms is that allowing them to do so would be good for the economy as a whole. Due to a combination of government involvement, harmonisation of numerous product and process standards, and financial assistance to help SMEs invest in ongoing innovation and technology upgrading, governments must promote standardisation.
Recommendation for Policy
1. Enhancement of skills
The skills shortage in small- and medium-sized enterprises (SMEs) is frequently documented in case studies. Public training institutions' slow and ineffective responses to new skill requirements and even fundamental skill requirements are the majority of the case studies, with only a small number of instances discussing rapid and effective responses. There are no suggested policy implications in the case studies because they are dependent on the industry and position of the suppliers. There are four distinct GVC scenarios, each of which holds different levels of importance when it comes to overall policy measures to be put in place.
Upgrading skills in four different GVC scenarios
– providing assistance to underperforming businesses
– to include upgraded suppliers in older industries
– facilitating the entry of innovative industries
– Specialization and sophistication are developed.
2. The incorporation of technology into modern life
Each of the case studies showed that in order to succeed in a GVC, organisations must keep up with both industry and international standards for technological advancement. The primary driver of innovation in SMEs is the foreign buyer or lead business in the GVC, which desires innovation from suppliers who wish to remain in the GVC. The leader of the firm will also provide details on the various aspects of the project, such as the methods of innovation and product development. Government intervention to incentivize small businesses to purchase relevant technology is one of the most critical measures it can take to assist them in reaching these standards. Research and development of small and medium-sized enterprises can be facilitated by supporting national innovation systems at the local, regional, and sectoral levels.
3. Standards and quality
Another critical consideration in the context of GVCs is international standards compliance. The ability of the small business to upgrade its technology is inextricably linked to and dependent on this. Regulatory requirements for product and process quality are both addressed by compliance. Because the product doesn't need to meet rigorous testing standards, validation of product compliance is possible by conducting tests on the product. Process compliance, however, necessitates regular factory audits and is often connected to process certification (e.g. ISO 9001:2015).
Prior to the introduction of an international standard such as ISO 9001, generic standards such as ISO 9001 were believed to be sufficient for producing consistent quality. In addition to industry-specific and proprietary process standards, a number of proprietary process standards and/or industry-specific standards have also been used by lead firms. Many small businesses encounter significant expense and time dealing with a range of standards, particularly in terms of training for certification. This can be a barrier to entry for these businesses into a GVC.
In countries where there are extensive quality assurance, certification, and accreditation systems, the cost is very low. Technically-trained experts typically conduct certification. This process is seldom seen as a strategic variable. Equipment calibration is usually performed by specialised suppliers in a competitive market, and these companies will sell calibration services for $100 or less per year. There are various service providers that offer ISO 9001 certification, with the cost of certification for this standard set at a few thousand dollars.
In many developing countries, the situation is significantly different. Much is still to be done before multilayered certification, accreditation, and calibration systems are widespread. The specialised services that Monopoly suppliers charge a high price for are given as a bonus to their clients. To some countries, developing a national certification, accreditation, and calibration system is part of a deliberate strategy.
4. Relationships between large corporations and small businesses
A long-term partnership between SMEs and conventional businesses is one of the most efficient strategies for integrating domestic suppliers into GVCs. Promotion measures might be focused on foreign direct investors who strengthen local supply capacity, as suggested by the So Paolo Consensus, which acknowledged the vital importance of developing and transitional economies, or economies in transition.
With regard to the investment climate, governments can help businesses connect by focusing on businesses with a proven track record of forming partnerships with local companies. The government must financially support business development services that help SMEs (small and medium-sized enterprises) become more "partnership ready."
There are a number of ways to build linkages in technical assistance: everything from entirely donor- or government-driven programmes to public-private sector partnerships. For example, the United Nations Conference on Trade and Development's business linkage development programme encourages business collaborations between big local companies and traditional corporate affiliates while simultaneously supporting the development of small and medium-sized enterprises. As part of an initiative involving local investment promotion agencies, traditional corporations, and donors, a Business Development Services Centre leads the process as lead facilitator, almost always the United Nations Conference on Trade and Development's Empretec Centre. Additionally, companies also run programmes focused on suppliers only, like independent programmes set up by large corporations that pursue their own self-interests, and sometimes as part of their corporate social responsibility efforts. Many SMEs in Egypt and Vietnam benefitted from this supplier development programme. When an entrepreneurial culture is developed, it also encourages entrepreneurs to begin new businesses that can be supported by international investment. As well as facilitating linkages, technology and skill development are required.
5. Territorial development and clusters
For the benefit of both national governments and municipal organisations, business promotion activities and policies are progressively adopted by both levels of government. A rising number of countries are now looking to economic projects such as cluster promotion from local governments and other actors. In order to foster local suppliers, various entities should be aware of the different approaches to GVCs. The report claims that purchasers can find clusters more easily than individual producers. Collective efficiencies also increase the attractiveness of clustered businesses to global suppliers (meyerstamer, 2007). In Nigeria, there are film villages; in Egypt and Vietnam, there are software parks and smart communities.
Close collaboration with industrial clusters in rapidly growing markets is a major challenge for governments. Most of these businesses tend to steer clear of government agencies because they consider them a roadblock rather than a helper. They have no incentive to plead for help from the government. Credibility in the private sector needs to be built, and communication and support need to be offered to stakeholders.
Specific suggestions for governments to improve SME involvement in GVCs by encouraging cooperation and collective action, including:
Establishing clusters and networks by connecting research institutions, universities, and small businesses
Working with developing countries' SMEs to integrate them into the global value chain
Attracting and growing commercial partnerships between traditional businesses and small- and medium-sized enterprises, as well as training and guiding suppliers in helping these smaller companies master topics such as design and production engineering.
6. IPR protection
In the industries of film and software, where SMEs contribute a great deal to value-added, inability to implement iprs was identified as a significant barrier to the growth of small and medium-sized enterprises (SMEs) and their capacity to benefit from corporate grants. While local SMEs in more mature industries did not view the issue as important, international SMEs considered it critical. On the other hand, some automotive component suppliers believe that some OEMs aren't interested in doing business with a supplier that manufactures component designs for other companies. This poll conducted by the Pew Research Center found that even if copyright and anti-piracy laws have no "magic bullet" effect on all economic issues, the enforcement of these laws by the government will bring new economic activities, particularly in emerging markets, to the forefront. The fact that most SMEs in developing nations are unable to adequately protect and exploit their intellectual property indicates that the majority of these SMEs are low on knowledge, capability, and financial resources.
This critical relationship exists for small and mid-sized companies in mature economies. Small and medium-sized enterprises are dependent on IPRs for investment and for the sale of their cutting-edge innovations. In addition, these SMEs depend on IPRs to protect them from being copied (Jensen, 2005). increasing the value of intellectual assets and intellectual property earned by SMEs.
A strategy to help SMEs gain a better understanding of intellectual property issues is to develop online marketplaces where businesses can sell their intellectual property. Facilitating SMEs in legally acquiring intellectual property assets from universities and research centres.
Final Thoughts
The case studies provided new insights into expanding SMEs' participation and enhancing their performance in GVCs. One intriguing finding from the study is that successful participation in GVCs is associated with business stability: companies that are able to keep up with global competition while staying within their value chains, or SMEs that thrive on their ability to "get on board," are more likely to experience success. This is more frequently linked to technological and human capital upgrades as a result of increased exposure and access to information, business processes, and technologies. Many advantages are derived from working together throughout the chain, including the resulting elevated status, the increased amount of information that flows, and the opportunities for growth.
In order to combat poverty, developing countries must focus on developing productive abilities. It is also required for local industry and service networks to be able to effectively link with international production networks in order to develop a local economy. stay-at-home mom
Suppliers who use the GVC method must be constantly developing and improving in order to stay competitive. In order to increase overall productivity, governments should seek long-term solutions instead of addressing short-term problems. Larger and more sophisticated products and services warrant greater legislative assistance for both technological upgrading and the addition of domestic value.
Re-establishment of commercial ties
In the case of our beneficiaries, we must be prepared to help them get in touch with customers, get their employees back on board, and return to normal production after the crisis has passed. At this point, it's too early to conclude anything, but here are some initial suggestions based on early-stage field research:
Work on changes to the project plan. It is imperative that we revisit our work plans and pay attention to what governments and MSME management demand.
Have relevant data at hand. International value chains connect millions of small- and medium-sized enterprises (SMEs) and account for a sizable share of global trade. Carefully assess the effects of the crisis, as well as the data, and make them widely available to policymakers and businesses.
Use natural elements to design an ecosystem. In today's business environment, small and medium-sized enterprises (MSMEs) increasingly need business support organisations (BSOs) to help them grow. Not only do governments require an ecosystem capable of providing assistance to SMEs, but that ecosystem must be able to benefit SMEs as well. Trade promotion groups from around the world are gathering to learn from each other, sharing new resources and best practises like market data, so that they can benefit small- and medium-sized companies immediately.
Value chains and strategic alliances are useful to consider when forming strategies. All parts of the value chain must work together to re-establish trade. An example of our plan is to remain in touch with customers and suppliers so that information is readily available.
Keep your money worries in mind. To help micro-enterprises (or small- and medium-sized enterprises, or MSMEs) obtain affordable financing, form a strong collaborative team that includes trade finance providers, regulators, guarantors, buyers, and suppliers.
Virtual technology should be used whenever possible, because it is essential to commence these processes as quickly as possible. Virtual mentorship, virtual inception missions, and offering early grants to small businesses who are struggling financially are just a few of the ways we have made it easier for tiny firms to keep going. Of course, the rest of our employees are taking on even more responsibility now that the crisis has started, in everything from collecting and providing data on our customers and clients to running our services.
Many of our micro and small business enterprise clients are succumbing to the early consequences of COVID-19. When they are ready to talk about rehabilitation, we must be ready and ready to react.
The #Brand10000SMEs mission of Global Council for the Promotion of International Trade (GCPIT) is to assist small businesses by making access to education, collaboration, domestic and national market, capital, and business support services more readily available to them.
Through this mission, SMEs will learn skills such as business plan development, problem solving, financial management, research and development, product and project management, marketing, employee management, innovation management and digital transformation.
The mission will open doors for SMEs to learn from and be mentored by business owners, as well as provide assistance to those new to entrepreneurship in the form of one-on-one advising.
The #Brand10000SMEs focuses on practical skills that managers can implement immediately in their company. Small business owners will learn new practises that increase their growth, and they will also begin to craft a growth plan that is custom tailored to their individual business.
Media Contact
Company Name: Global Council for the Promotion of International Trade, South Africa
Contact Person: Santosh G
Email: Send Email
Address:3456 NU 8, Mdantsane
City: East London
State: Eastern Cape, 5219
Country: South Africa
Website: https://gcpit.org