Achondroplasia Drug Market Report and Insights 2030 by DelveInsight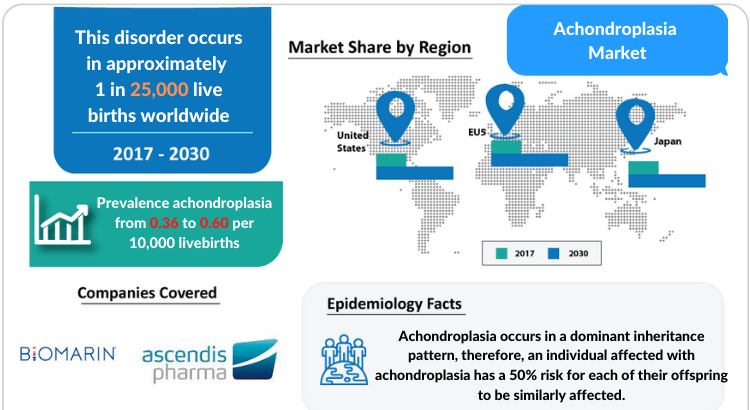 DelveInsight's Achondroplasia Market Insights, Epidemiology, and Market Forecast-2030″ report delivers an in-depth understanding of the Achondroplasia, historical and forecasted epidemiology as well as the Achondroplasia market trends in the United States, EU5 (Germany, Spain, Italy, France, and United Kingdom) and Japan.
Achondroplasia Overview
Achondroplasia is the most common of skeletal dysplasia that results in marked short stature (dwarfism). It is a human bone genetic disorder of the growth plate and is the most common form of inherited disproportionate short stature.
Request free sample copy @ https://www.delveinsight.com/sample-request/achondroplasia-market
Regions Covered
The United States
EU5 (Germany, France, Italy, Spain, and the United Kingdom)
Japan
List of Key Players involved in the report
BioMarin
Ascendis Pharma
Therachon/ Pfizer
And many others
The children affected by Achondroplasia are delayed in reaching gross motor milestones such as head control, and independent sitting and walking. There are some serious neurological problems that may also occur due to narrowing of the spinal canal and nerve compression.
Achondroplasia Market Insights
It is caused by one of two mutations (G1138A and G1138C) in the FGFR3 (Fibroblast Growth Factor Receptor 3) gene at chromosome locus 4p16.3. The mutations cause the FGFR3 protein to be overly active, which interferes with skeletal development and leads to disturbances in bone growth seen with this disorder.
Achondroplasia Market Outlook
There is currently no treatment that can cure Achondroplasia since most cases result from unexpected new mutations. Treatment aimed at correcting growth has been tried; however, growth hormone therapy has no significant effect on adult stature.
Achondroplasia Therapies
The only available therapeutic option for Achondroplasia is limb lengthening, an extremely invasive surgical procedure that addresses height but no other Achondroplasia-associated complications. It is very important to check for bone abnormalities, especially in the back. Sometimes, surgery is also needed to correct specific skeletal deformities in patients with severe knock-knee, Kyphosis, or bowed legs. For significant spinal kyphosis, a spinal fusion sometimes is also performed (permanently connecting otherwise separate vertebrae).
Achondroplasia Treatment Market
The current market is occupied with this symptomatic treatment and surgery only. To be effective, a new treatment approach must consider Achondroplasia is a complex disease, correcting the short stature and preventing complications. Understanding the pathophysiology of the disease is essential to achieve this and correcting the growth of all bones affected by the disease, will define the future treatment strategy.
Achondroplasia Pathogenesis
The molecular pathogenesis of Achondroplasia began to unravel with the identification of mutations in transmembrane receptor Fibroblast Growth Factor Receptor 3 (FGFR3). Currently, several approaches are designed to target FGFR3 within the cartilage either by blocking its activation, inhibiting downstream signaling, or increasing its turnover.
Achondroplasia Market Report Scope
The report covers the descriptive overview of Achondroplasia, explaining its causes, signs and symptoms, pathophysiology, diagnosis, and currently available therapies
Comprehensive insight has been provided into the Achondroplasia epidemiology and treatment in the 7MM
Additionally, an all-inclusive account of both the current and emerging therapies for Achondroplasia are provided, along with the assessment of new therapies, which will have an impact on the current treatment landscape
A detailed review of the Achondroplasia market; historical and forecasted is included in the report, covering drug outreach in the 7MM
The report provides an edge while developing business strategies, by understanding trends shaping and driving the global Achondroplasia market
Request free sample copy @ https://www.delveinsight.com/sample-request/achondroplasia-market
Read Detailed Table of Content
1. Key Insights
2. Executive Summary of Achondroplasia
3. Competitive Intelligence Analysis for Achondroplasia
4. Achondroplasia: Market Overview at a Glance
5. Achondroplasia: Disease Background and Overview
6. Patient Journey
7. Achondroplasia Epidemiology and Patient Population
8. Treatment Algorithm, Current Treatment, and Medical Practices
9. Unmet Needs
10. Key Endpoints of Achondroplasia Treatment
11. Marketed Products
12. Emerging Therapies
13. Achondroplasia: Seven Major Market Analysis
14. Attribute analysis
15. 7MM: Market Outlook
16. Access and Reimbursement Overview of Achondroplasia
17. KOL Views
18. Market Drivers
19. Market Barriers
20. Appendix
21. DelveInsight Capabilities
22. Disclaimer
23. About DelveInsight
Achondroplasia Market Report Highlights
In the coming years, the Achondroplasia market is set to change due to the rising awareness of the disease, and incremental healthcare spending across the world; which would expand the size of the market to enable the drug manufacturers to penetrate more into the market
The companies and academics are working to assess challenges and seek opportunities that could influence Achondroplasia R&D. The therapies under development are focused on novel approaches to treat/improve the disease condition
Major players are involved in developing therapies for Achondroplasia. The launch of emerging therapies will significantly impact the Achondroplasia market
A better understanding of disease pathogenesis will also contribute to the development of novel therapeutics for Achondroplasia
Our in-depth analysis of the pipeline assets across different stages of development (Phase III and Phase II), different emerging trends, and comparative analysis of pipeline products with detailed clinical profiles, key cross-competition, launch date along with product development activities will support the clients in the decision-making process regarding their therapeutic portfolio by identifying the overall scenario of the research and development activities.
Why should you buy this report?
The report will help in developing business strategies by understanding trends shaping and driving the Achondroplasia market
To understand the future market competition in the Achondroplasia market and Insightful review of the key market drivers and barriers
Organize sales and marketing efforts by identifying the best opportunities for Achondroplasia in the US, Europe (Germany, Spain, Italy, France, and the United Kingdom), and Japan
Identification of strong upcoming players in the market will help in devising strategies that will help in getting ahead of competitors
Organize sales and marketing efforts by identifying the best opportunities for the Achondroplasia market
To understand the future market competition in the Achondroplasia market
About Us
DelveInsight is a Business Consulting and Market research company, providing expert business solutions for the life science vertical and offering quintessential advisory services in the areas of R&D, Strategy Formulation, Operations, Competitive Intelligence, Competitive Landscaping, and Mergers & Acquisitions.
Contact Us
Shruti Thakur
Media Contact
Company Name: DelveInsight Business Research LLP
Contact Person: Yash Bhardwaj
Email: Send Email
Phone: +919650213330
Address:304 S. Jones Blvd #2432
City: Las Vegas
State: NV
Country: United States
Website: https://www.delveinsight.com/