Introducing Mujahid Ali Khan, the Young, Emerging Fresh Voice of Urdu Poetry and Ghazals
Delhi-born Mujahid Ali Khan is an upcoming and award-winning Urdu poet and ghazal writer whose thoughts and expressions are infusing a new spirit in literature. Mujahid's talent finds its greatest expression when he is writing poetry, and no wonder this young writer has won competitions and received several awards from well-known organizations.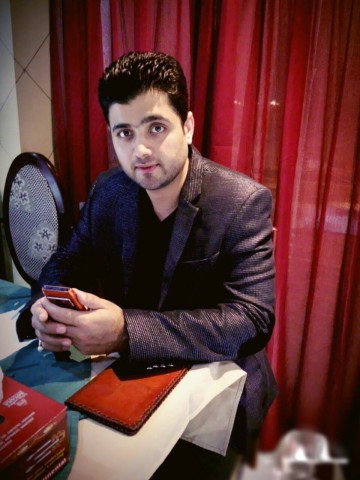 Mujahid's verses and ghazals weave the most beautiful feelings that tug at the heart, and stay with the reader for long. His poetry is about capturing the intensity of love and life in the most captivating way that touches one's heart and soul. Moreover, what can be called his mini poetic epics are dedicated to the people who have passed through his life and made an impact. With words alone, he is able to personify the people who came into his life for a reason. Some of his writings feature sordid characters, and like an indie film, will surely baffle the reader with their edginess.
"It's been the greatest joy to come across his poems which are filled with deep insights about love and life", says Priya, a fan of Mujahid.
In another bold attempt, Mujahid has pushed the envelope of the genre Ghazal and has done something very interesting. Ghazal is considered to be a form of poetry that is used to express love and romantic feelings between two lovers. Mujahid has used ghazals to eulogize his mother which is beautifully unique and has been applauded. Apart from poetry, Mujahid has also written a memoir that is yet to be published. Over the years, several reputed newspapers have published his poems.
"For me, writing is like worshipping. I love it when people tell me how much they can relate to my poem or how much it has meant to them. I connect with people through words", says Mujahid.
Till date, Mujahid has written 1200 couplets and 100 poems which have been published by well-reputed websites and social media platforms. He has also won the first prize in the Infosys Got Talent in Bangalore, which was a State level competition. For Mujahid, his fans are extended family and he loves to stay in touch with them via his website and his Facebook page. He regularly keeps his fans updated and posts his work on Facebook along with posting about his upcoming event performance, new books, YouTube updates, etc.
"My website and my Facebook page are a big family. I love to stay connected to all my fans and friends. Through my writing, I want to spread love and peace. I want to convey the message to the world to live and let live", said the Mujahid.
Mujahid's interest lies in performing on a stage in front of a live audience. He has performed in several noteworthy private events and has enthralled the audience with his poetry and his ghazals. Mujahid has also performed for the popular Bollywood magazine Filmfare for a middle-east event that took place in Dubai.
To get to know Mujahid's poetry, or to book him for a concert or event, head to his official website.
For more information, please visit: https://mujahidalikhan8.wixsite.com/mujahidalikhan
Media Contact
Company Name: Mujahid Ali Khan
Contact Person: MAK
Email: Send Email
Phone: +919821921303
State: Delhi
Country: India
Website: https://mujahidalikhan8.wixsite.com/mujahidalikhan