Brain Implants Market Players' Strategic Developments and Revenue Forecast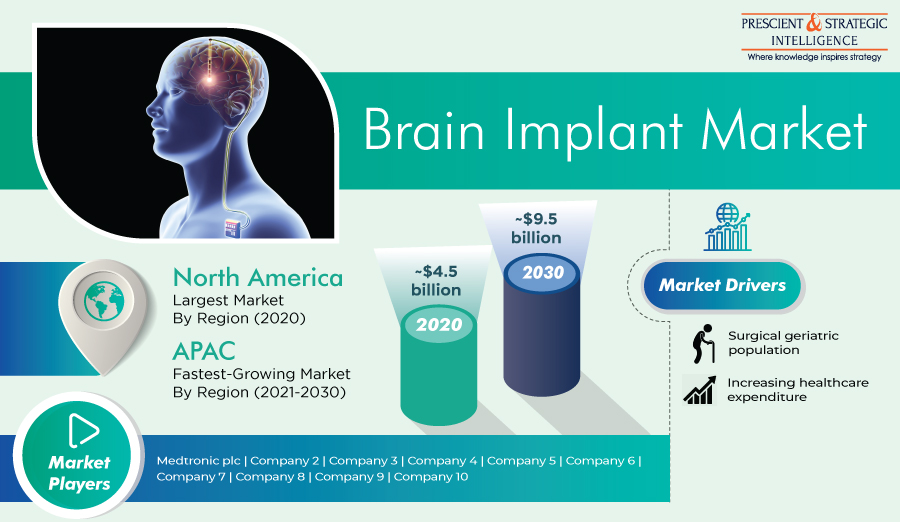 North America is expected to account for the largest share in the brain implant market during the forecast period, due to the soaring elderly population, rising developments in brain implants, and surging frequency of product approvals in the region.
The World Health Organization (WHO) introduced the WHO Special Initiative for Mental Health (2019–2023): Universal Health Coverage for Mental Health, in 2019, to ensure access to affordable and quality care for mental health conditions in 12 priority nations to an additional 100 million people. With such program, the WHO aims to provide effective treatments and improve existing treatments for all mental disorders. Thus, the rising public awareness regarding mental illnesses and neurological disorders, owing to such initiatives, will promote the adoption of brain implant devices across the world.
Moreover, the surging healthcare expenditure and the rising geriatric population will strengthen the brain implant market in coming years. According to P&S Intelligence, the market revenue is expected to surge from $4.5 billion in 2020 to $9.5 billion by 2030. As per the United Nations Population Fund (UNFPA), by 2050, around 22% of the world population will be 60 years and older. Elderly people need extensive care, as they are extremely susceptible to neurological illnesses, such as epilepsy, essential tremors, depression, Parkinson's, and Alzheimer's disease.
Get the sample pages of this report at: https://www.psmarketresearch.com/market-analysis/brain-implant-market-outlook/report-sample
In recent years, brain implant device manufacturers have engaged in product launches to provide an improved portfolio of devices to patients. For instance, NeuroSphere myPath, a digital health app was introduced by Abbott Laboratories in January 2021. This app is designed to monitor and report the well-being of patients undergoing spinal cord stimulation or dorsal root ganglion (DRG) therapy. Other companies focusing on developing advanced products include Aleva Neurotherapeutics SA, Inspire Medical Systems Inc., Synapse Biomedical Inc., Boston Scientific Corporation, Nevro Corporation, Medtronic plc, and NeuroPace Inc.
The aforementioned companies are manufacturing spinal cord stimulation devices, deep brain stimulation devices, and vagus nerve stimulation devices for patients living with chronic pain, essential tumor, Alzheimer's disease, Parkinson's disease, depression, and epilepsy. In contemporary times, deep brain stimulation devices are being adopted in the highest quantity due to their ability to reduce stiffness, walking difficulties, and slowness in people suffering from neurological disorders. These brain implant devices have proven effective for people who have not responded to medication for at least five years.
Geographically, North America is expected to lead the brain implant market in the upcoming years, due to the surging elderly population, increasing frequency of product approvals, and rising technological developments in brain implants. Moreover, the growing prevalence of neurological disorders and soaring healthcare expenditure will encourage more people to opt for brain implant devices in the region. For instance, the Centers for Disease Control and Prevention (CDC) estimated that around 5.8 million Americans were surviving with Alzheimer's disease in 2020. The CDC also states that 12,000–15,000 people in the U.S. live with amyotrophic lateral sclerosis (ALS).
Browse report with detailed COVID-19 impact analysis on Global Brain Implant Market Revenue Estimation and Demand Forecast to 2030
Whereas, Asia-Pacific (APAC) is expected to adopt brain implant devices at the highest rate in the forthcoming years, owing to the improving healthcare infrastructure, surging cases of neurological diseases, and increasing affordability of implant procedures, in the region. Additionally, the increasing investments in the development of advanced brain implant devices, owing to the lack of long-term treatment solutions for psychiatric and neurodegenerative disorders, will boost the adoption of brain implants in APAC in the coming years.
Therefore, the growing geriatric population, surging incidence of neurological disorders, and escalating public awareness on mental health conditions will encourage the adoption of brain implant devices, worldwide.
Market Size Breakdown by Segment
Based on Type
Deep Brain Stimulation
Spinal Cord Stimulation
Vagus Nerve Stimulation
Based on Application
Chronic Pain
Epilepsy
Parkinson's Disease
Depression
Essential Tremor
Alzheimer's Disease
Geographical Analysis
North America
Europe

Germany
France
U.K.
Italy
Spain

Asia-Pacific (APAC)

Japan
China
India
Australia
South Korea

Latin America (LATAM)
Middle East and Africa (MEA)

Saudi Arabia
South Africa
Browse Other Related Reports
Neurostimulation Device Market Report
Geographically, the neurostimulation device market recorded the highest growth in North America in the past years and this trend will continue in the upcoming years as well, as per the forecast of P&S Intelligence, a market research firm based in India.
Nerve Repair and Regeneration Market Report
North America accounts for the largest share in the nerve repair and regeneration market, wherein the U.S. generates the higher revenue.
Media Contact
Company Name: P&S Intelligence
Contact Person: Abhishek
Email: Send Email
Phone: +918887787886
Address:Noida Sector 2
City: Noida
State: UP
Country: India
Website: https://www.psmarketresearch.com/market-analysis/brain-implant-market-outlook