Endoscope Repair Market in U.S. To Generate Revenue Worth $603.6 Million in 2030 | CAGR 9.3% | P&S Intelligence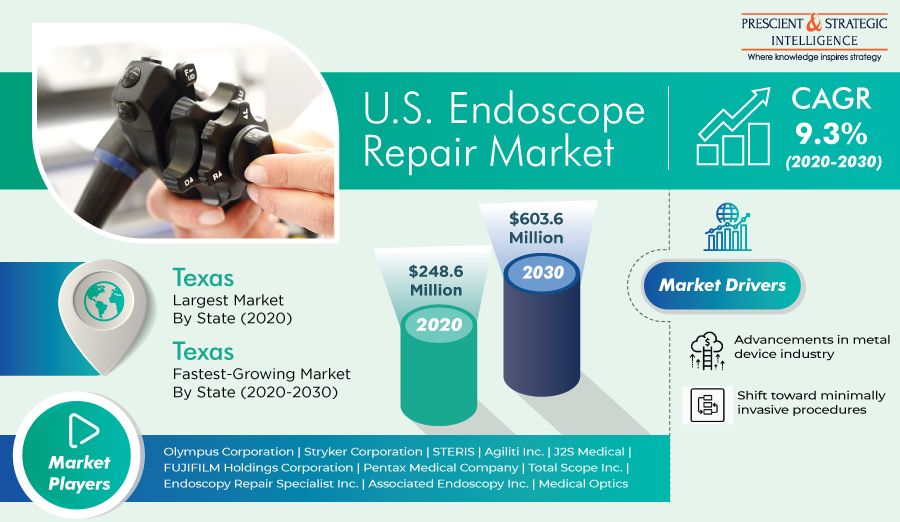 Texas was the largest contributor to the U.S. endoscope repair market in 2020. This was majorly due to the high proportion of older people in the state, combined with the high prevalence of cancer.
Factors such as the increasing preference for equipment insurance, surging adoption of medical equipment maintenance contracts, accelerating shift toward minimally invasive surgical procedures, and rising advancements in the medical device industry are expected to drive the U.S. endoscope repair market at a CAGR of 9.3% during the forecast period (2020–2030). According to P&S Intelligence, the market was valued at $248.6 million in 2020, and it is projected to generate $603.6 million revenue by 2030.
The rising advancements in the medical device industry are propelling the demand for endoscope repair services in the U.S. The technological advancements in the medical device industry aim at providing new and improved medical facilities to patients. For example, video capsule endoscopy (VCE), a powerful diagnostic tool and advanced endoscopy technology, is being used for diagnosing gastrointestinal tract diseases. VCE can visualize the colon, stomach, esophagus, and proximal small bowel and provide functional information. Thus, with the rising complexity in endoscopes, the requirement for their regular and effective servicing is increasing.
Request for sample pages of this report: https://www.psmarketresearch.com/market-analysis/endoscope-repair-market-us/report-sample
Currently, the rising adoption of comprehensive servicing contracts is becoming a prominent trend in the U.S. endoscope repair market. End users are now entering into comprehensive contracts with independent service organizations (ISOs) to minimize the additional expenses and complexities associated with separate services provided under agreements with multiple original equipment manufacturers (OEMs). For example, NovaMed Corporation runs a comprehensive service management program that enables clients to consolidate the services of the company into one contract. This contract provides an affordable alternative to multi-vendor, multi-modality access, and OEM contracts.
At present, the U.S. endoscope repair market is characterized by the presence of several key players, who are now opting for partnerships and acquisitions to consolidate their position. Some of the leading players entering into such strategic agreements are HMB Endoscopy Products, J2S Medical, Associated Endoscopy Inc., Steris Corporation, Total Scope Inc., Olympus Corporation, Pentax Medical Company, Stryker Corporation, Endoscopy Repair Specialist Inc., Agiliti Inc., Endoscopy Support Services Inc., and FUJIFILM Holdings Corporation.
The endoscope type segment of the U.S. endoscope repair market is classified into laparoscope, bronchoscope, arthroscope, cystoscope, colonoscope, esophagoscope, and others. Under this segment, the esophagoscope category generated the highest revenue in 2020, and it is expected to continue this trend throughout the forecast period. This can be owed to the rising incidence of diseases such as gastroesophageal reflux disease (GERD) and abnormal throat and surging knowledge about the early signs of esophageal cancer and advantages of its early diagnosis.
Browse report with detailed COVID-19 impact analysis on U.S. Endoscope Repair Market Size and Growth Forecast to 2030
Geographically, Texas is expected to account for the largest share in the U.S. endoscope repair market during the forecast period due to the booming geriatric population and surging prevalence of cancer in the state. Besides, the mounting healthcare expenditure by the state government will support the market growth. For instance, the Texas Department of State Health Services (DSHS), Teacher Retirement System (TRS), Texas Department of Aging and Disability Services (DADS), and Employees Retirement System (ERS) contribute approximately 83% of all the healthcare expenditure in Texas.
Therefore, the increasing technological developments in the medical device industry and mounting focus of end users on comprehensive servicing contracts will contribute to the market growth.
Market Size Breakdown by Segment
By Endoscope Type
Esophagoscope
Arthroscope
Colonoscope
Bronchoscope
Cystoscope
Laparoscope
Others
By Service Provider
Independent Service Organizations (ISOs)
In-House
Original Equipment Manufacturers (OEMs)
By State
Texas
California
Florida
Illinois
Pennsylvania
Ohio
New York
Michigan
Georgia
Kansas
Rest of U.S.
Browse Other Related Reports
Endoscope Market Report – North America dominated the endoscope market in the past, and the region is expected to account for 47.7% share of the market in 2024. The surging prevalence of chronic diseases, increasing geriatric population, enhanced healthcare services, presence of major players, and rising number of hospitals are leading to the growth of the regional market.
Urology Surgical Instrument Market – Globally, Asia-Pacific urology surgical instrument market is projected to observe the highest CAGR during the forecast period. This can be ascribed to the surging awareness about urological disorders, growing medical tourism industry, increasing per capita income, improving healthcare infrastructure, and rising number of related conferences in the region.
Media Contact
Company Name: P&S Intelligence
Contact Person: Abhishek
Email: Send Email
Phone: +918887787886
Address:Noida Sector 2
City: Noida
State: UP
Country: India
Website: https://www.psmarketresearch.com/market-analysis/endoscope-repair-market-us