Flexible Plastic Packaging Market Sales to Surge at 5% CAGR amid Rising Demand from Food and Beverage Industry: Future Market Insights
High demand for flexible plastic packaging especially in food & beverages, electrical, consumer electronics, and e-commerce industries owing to its lightweight and high durability will boost the market growth in upcoming years
A Future Market Insights (FMI) survey offers comprehensive analysis on flexible plastic packaging market outlook. Increasing investment in bio-plastics will enable the market to register spurring sales. Trend will continue as leading market players focus on product development as key strategy to gain competitive strength.
The global flexible plastic packaging market is anticipated to grow at 5% CAGR between 2021 and 2031 owing to rising inclination of consumers towards stand-up pouches and re-closable packaging solutions over traditional packaging products. The market will exhibit 4.9% year-on-year growth with sales reaching over 33.6 million tons in 2021.
Historically, sales increased at 4.3% CAGR between 2016 and 2020. Increasing inclination and preference for on-the-go and online food delivery is fueling demand for flexible plastic packaging across the globe.
Flexible plastic packaging is widely used by e-commerce retailers as it is waterproof, durable, lightweight, and easily recyclable. Rising demand for domestic essentials and medical supplies is expected to increase online retail sales, thereby, accelerating demand for flexible plastic packaging solutions.
Manufacturers are focusing on boosting their portfolio in the flexible plastic packaging market by developing novel packaging styles such as compostable films, collapsible pouches, and bag-in-box, among others.
For instance, in 2021, KM Packaging introduced a new biodegradable product line built from bio-plastic packaging materials. Shrink wrap, stretch wrap, sticky tape, netting, and bags are all part of the C-range. This broadened KM's product line of sustainable flexible packaging solutions and enabled the company to access a larger client base.
For more Insights into the Market, Request a Sample of this Report
https://www.futuremarketinsights.com/reports/sample/rep-gb-4174
In March 2021, Mondi introduced a mono-material recyclable WalletPack for Bell Germany's thinly sliced gourmet ham. This new product was created in accordance with German recycling regulations. This innovative product is anticipated to replace multi-material non-recyclable plastic solutions, consuming 37% less material than normal plastic packaging, according to the manufacturer. Such innovations will create opportunities for flexible plastic packaging sales growth.
Market players are therefore focusing on new product launches and participating in strategic merger and acquisitions to leverage on increasing demand of bio-plastics across the globe.
"Ban on single-use plastic packaging across various nations has compelled market participants to create biodegradable and recyclable plastic packaging alternatives. This is in turn bolstering demand for flexible plastic packaging," said a Future Market Insights (FMI) analyst.
Key Research Findings
Increasing e-commerce sales in U.S. will boost demand for flexible plastic packaging in the country.
Increased demand in the healthcare industry for general barrier, long-life, and durable plastics is projected to boost market growth in Germany.
Increasing government expenditure in upgrading recycling facilities in China is likely to bode well for the flexible plastic packaging market over the forecast period.
Rising awareness regarding benefits of recycling and bioplastics in India has elevated demand for flexible plastic packaging.
Government measures are supporting the adoption of bio-plastics, while prohibiting the use of non-biodegradable and single-use.
By product type, flexible plastic films and wraps will gain traction since they are lightweight, resilient, and offer great protection to a wide range of items, particularly when travelling.
Growth Drivers:
As the number of fast-food restaurants grows, the demand for robust, portable, and lightweight flexible plastic packaging solutions will increasing.
Sales of bio-plastics will continue to be driven by a focus on environment friendly packaging options and implementation of rule that encourage recycling.
The growing popularity of on-the-go meals will continue to drive demand for flexible plastic film packaging.
Elevated demand for personal protective equipment (PPE) kits by hospitals, diagnostic centers, clinics and other healthcare service providers will support the market growth.
For any Queries Linked with the Report, Ask an [email protected] https://www.futuremarketinsights.com/ask-question/rep-gb-4174
Competitive Landscape
Key players are focusing on expanding production capacities, developing partnership, strategic merger and acquisition to increase market revenue. For instance,
On June 10th, 2021, Redi-Bag, a well-known manufacturer of polyethylene flexible plastic packaging, was purchased by Soteria Flexibles. As a result of the acquisition, Soteria will be able to enter the seafood and vegetable packaging industries with greater flexibility.
On 15th June 2021, Mengniu has announced the commercialization of collation PCR shrink film for use in the food and beverage sector. This new product, which was created in conjunction with DOW Chemical Co. Ltd, is said to be constructed of recyclable one-pellet resin.
FKuR Kunststoff GmbH and India's SKYi Innovations LLP collaborated in March 2021 to research and produce biodegradable bio-plastics for agricultural and other uses.
Indian Institute of Technology created a new form of bioplastic in January 2020 that is both low-cost and stronger than high-density polyethylene (HDPE)
In 2021, Berry Inc's VerdantTM brand introduced an environmentally friendly packaging solution. The company created the verdant extruded tube, which includes 25% PCR and sets a new standard for PCR content in personal care packaging.
Key players profiled in the market include
Constantia Flexibles Group GmbH
Berry Global Group, Inc.
Huhtamäki Oyj
Sonoco Products Company
Bemis Company, Inc.
Sealed Air Corporation
AR Packaging Group AB
Mondi Group
DS Smith Plc
CCL Industries Inc.
Uflex Ltd.
Winpak Ltd.
Rengo Co. Ltd.
Transcontinental Inc.
Epac LLC
Emerald Packaging Inc.
Glenroy, Inc.
Schur Flexibles Group
ProAmpac LLC
Goglio Group
Bischof & Klein GmbH & Co. KG
Clondalkin Group Holdings B.V.
BBC Cellpack Packaging
Bryce Corporation
Printpack, Inc.
Parkside Flexibles (Europe) Limited
Lindopharm GmbH
Flair Flexible Packaging Corporation
American Packaging Corporation
Coveris Holdings S.A.
Interflex Group Inc.
We Offer tailor-made Solutions to fit Your Requirements, Request [email protected] https://www.futuremarketinsights.com/customization-available/rep-gb-4174
More Insights on the Global Outlook of Flexible Plastic Packaging Market
Future Market Insights, in its new offering, provides an unbiased analysis of the flexible plastic packaging sales, presenting historical demand data (2016-2020) and forecast statistics for the period from 2021-2031. The study divulges compelling insights on flexible plastic packaging demand with a detailed segmentation on the basis of:
Material Type:
oil base polymers
bio-plastics
Product Type:
pouches
bags & sacks
tubes
sleeve labels
films & wraps
Packaging Type:
VSP (vacuum skin packaging)
MAP (modified atmospheric packaging)
general barrier
End-Use:
Food
Beverages
Personal Care
Homecare
Pharmaceuticals
Industrial Packaging
Others
Region:
North America
Latin America
Europe
South Asia
East Asia
Oceania
Middle East & Africa (MEA)
The report offers insight into flexible plastic packaging demand outlook for 2021-2031
The market study also highlights projected sales growth of flexible plastic packaging market between 2021 and 2031
Flexible plastic packaging sales survey identifies key growth drivers, restraints, and other forces impacting prevailing trends and evaluation of current market size and forecast and technological advancements within the industry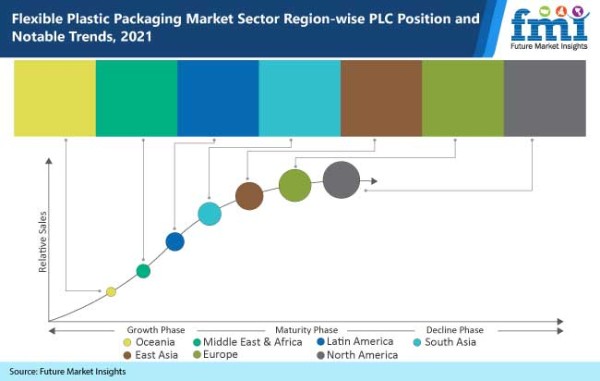 Key Questions Covered in the Global Flexible Plastic Packaging Market Report
The report offers insight into flexible plastic packaging demand outlook for 2021-2031
The market study also highlights projected sales growth of flexible plastic packaging market between 2021 and 2031
Flexible plastic packaging sales survey identifies key growth drivers, restraints, and other forces impacting prevailing trends and evaluation of current market size and forecast and technological advancements within the industry
Flexible plastic packaging market share analysis of the key companies within the industry and coverage of strategies such as mergers and acquisitions, joint ventures, collaborations or partnerships, and others
Media Contact
Company Name: Future Market Insights
Contact Person: Ankush Nikam
Email: Send Email
Phone: +442076928790
Address:3rd Floor, 207 Regent Street
City: London
Country: United Kingdom
Website: https://www.futuremarketinsights.com/reports/flexible-plastic-packaging-market